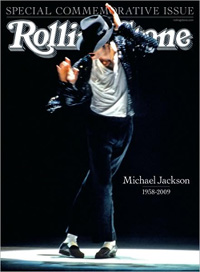 The death of Michael Jackson has undoubtedly been the biggest celebrity story of 2009 to date. And, according to an interesting if questionable study, magazine publishers have cashed in to the tune of $55 million on the fall of the King of Pop.
The report, released by the Magazine Information Network, estimates that publishers have sold $67 million worth of Jackson tribute issues, according to Gil Brechtel, MagNet's president and chief executive. But Brechtel revised that figure, taking into account revenue that would have been generated by publishers' "regular" issues.
The $55 million is actually pretty small, when you consider that virtually every single magazine publisher – from Entertainment Weekly to People to Time to Us — rushed to their own Jacko tribute to print in the hopes of capitalizing on collectors – the magazine world's version of ambulance chasing.
The nameless Jackson photo gallery books that are still hanging in supermarket checkouts appear to be the most egregious – one even incorrectly lists American Idol judge Randy Jackson as Michael Jackson's brother.
This isn't to say I blame the magazine publishers for plundering the Jacko vaults — they could use all the incremental revenue they can get.
Newsstand sales are down more then 12 percent across the industry this year, according to circulation figures released Monday. And advertising plummeted 27.9 percent during the first half of the year – a slide as slick as the moonwalk.
As grisly as it sounds, magazine publishers can only hope for more celebrity deaths to boost their sagging fortunes.