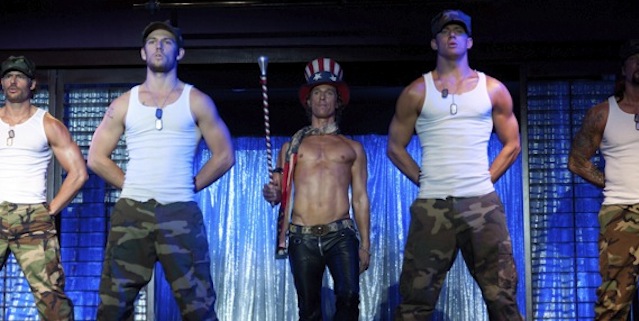 Steven Sodebergh's male-stripper tale "Magic Mike," starring real-life former stripper Channing Tatum, will close the Los Angeles Film Festival, where more than a dozen films will make their world premiere in June.
Woody Allen's "To Rome With Love" already had been announced as the opening night film.
In between, more than dozen movies will make their world premiere, including "People Like Us," the directing debut of Alex Kurtzman. Kurtzman and collaborator Roberto Orci just announced a first-look deal with Universal on Tuesday.
Also Read: Woody Allen's 'To Rome With Love' to Open L.A. Film Fest
The 18th annual festival runs from June 14-24 in downtown L.A. Ten films will be eligible in the narrative competition, while nine qualified in the documentary category.
Other notable screenings include "Seeking a Friend for the End of the World, "Middle of Nowhere" and "Beasts of the Southern Wild."
"There is nothing more satisfying than shining a spotlight on so many unique films from both seasoned and emerging filmmakers," Festival Director Stephanie Allain said in a statement. "Come experience the wonder of 'Beasts of the Southern Wild," let 'Call Me Kuchu' break your heart and call you to action, or simply be entertained by Channing Tatum and Matthew McConaughey in 'Magic Mike.'"
Also playing are Laura Colella's "Breakfast with Curtis," Jared Moshé's "Dead Man's Burden" and Alex Karpovsky's "Red Flag" — all of which will have their world premieres at the festival. The documentary lineup includes "Drought" by Everado González, Till Schauder's "The Iran Job" and Mai Isklander's "Words of Witness."
Jonathan Lisecki's "Gayby," Todd Berger's "It's a Disaster" and Lauren Greenfield's "The Queen of Versailles" are among the 16 independent films unspooling as part of the fest's Summer Showcase series.
In "Magic Mike," Tatum plays a veteran stripper charged with grooming a protege at a club owned by another former performer, played by Matthew McConaughey. "White Collar's" Matt Bomer also stars.