Mike Connors, the actor who played detective Joe Mannix in the CBS series "Mannix" four decades ago, is looking to solve the mystery of where all of his royalties money went.
Connors, 85, files suit against Paramount Pictures Corporation and CBS Television Studios in Los Angeles Superior Court on Thursday, claiming breach of written contract, negligent misrepresentation and unfair business practices, among other charges.
Connors alleges that he is owed royalties on DVDs and other products deriving from the series, which ran from 1967 to 1975.
The suit claims that Connors has only sporadically received accounting statements, which reported that no money was due. In fact, according to the suit, CBS and Paramount have claimed that the show has produced losses which, due to interest, have ballooned from $5.1 million in 1975 to $9 million currently.
"Mr. Connors has never received any profits on 'Mannix' in the ordinary course of participation accounting," the suit reads. "Indeed, even as the series continues to generate revenue to this day from exploitation and DVD sales, it sinks deeper and deeper into debt."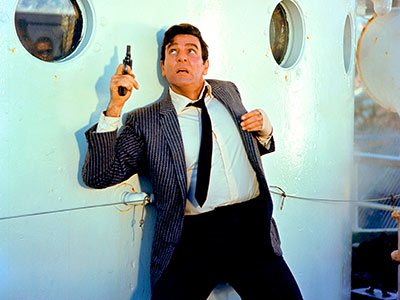 According to the suit, Connors had an agreement that granted him 10 percent of the "gross proceeds derived from the use of Mr. Connors' name and likeness in merchandising, subject to a 50 percent fee" for the first four seasons, and 20 percent of the net profits from seasons five through eight.
However, the suit alleges, CBS and Paramount "manipulated the accounting in such a manner that made it impossible for Mr. Connors to ever receive contingent compensation from 'Mannix.'"
Among the manipulations, according to the suit: "[C]harging excessive and improper costs," delaying the application of gross receipts "such that interest grows uncontrollably" and "only reporting 20 percent of the gross receipts for DVD sales."
Connors is seeking unspecified damages, and a full accounting from CBS and Paramount.
CBS claims ignorance of Connors' allegations.
A CBS spokesman tells TheWrap, "This lawsuit is a mystery worthy of Mannix's detective skills. Before the case was filed, we had not heard from Mr. Connors or his lawyers, and we had not been made aware of any dispute. We will honor Mr. Connors' contract and fulfill all of our obligations."
Requests for comment from Paramount were not immediately returned.