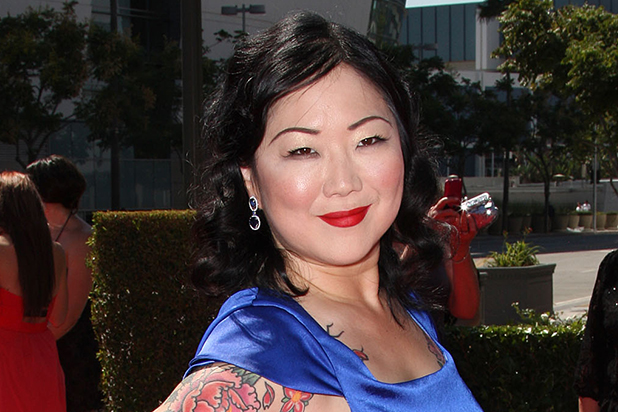 It has been 20 years since "All American Girl," and now ABC has two sitcoms about Asian families on the air at the same time.
This legacy is thanks in no small part to Margaret Cho, who will appear on one of those two sitcoms –"Dr. Ken" — this Friday. And the full circle significance of it all is not lost on the comedian.
"It's a powerful thing because I created the first Asian-American family show 25 years ago and then helped a little bit on 'Fresh off the Boat' and now I'm helping a little bit on 'Dr. Ken,'" Cho told TheWrap. "It's a good feeling, that all of my hard work sort of was not for nothing."
Also Read: The Shonda Effect: 16 Shows That Champion Diversity (Photos)
With "Fresh Off the Boat," "Dr. Ken" and "Quantico," led by Bollywood superstar Priyanka Chopra, ABC will also be the first network in history to have three shows featuring first-billed Asian leads on the air at the same time.
Below, Cho discussed trying to convince Ken Jeong to pursue comedy instead of medicine years ago, the changing nature of diversity in media, and why she hates the word "diversity" in the first place.
You are returning to ABC by appearing on "Dr. Ken." What was that like?
Beautiful. I love Ken Jeong, he is my favorite. Twenty-five years ago I was begging him not to go to medical school, to instead pursue his dream to become a comedian. He was being real Korean about it, and he had to be a doctor first for whatever reason. He's a great doctor but I think he's really special actor, comedian, writer. He is in the vein of, for me, because I love the history of comedy, sort of a Buster Keaton, Charlie Chaplin, Harold Lloyd type. Physical comedian to the level of Lucille Ball, who I think was the ultimate. He really is tremendous so I'm grateful to be on the show. I'm a family member, so hopefully I'll be invited back.
Also Read: Margaret Cho on How Comedy Helped Her Overcome the Pain of Being Raped 'More Than 15 Times'
It's a powerful thing because I created the first Asian-American family show 25 years ago and then helped a little bit on "Fresh off the Boat" and now I'm helping a little bit on "Dr. Ken." It's a good feeling that my hard work was not for nothing. There's also "Sullivan and Sons" which preceded these shows on TBS. All of these shows are really part of my legacy. They're all my shows because they were all inspired by me and I've been on all of them.
When "All-American Girl" went off the air, did you think it would take 20 years to see another Asian family on TV?
No, but it did. It's disappointing, unfortunately. But TV is shifting and growing in ways, and film too, all of art and media and entertainment has shifted. Culture has shifted in a way that diversity is no longer enough. We're judged by merit. Which is more powerful than idea of tokenism and diversity. If you're an artist of color, a woman of color, if you're a woman at all in entertainment, you have to work a million times harder than men to get noticed. The fact is our projects are infinitely better because we've had to fight through internalized racism, homophobia and sexism, and also the whole not allowing us to be visible. Now that's shifted due to so much programming. I'm grateful to be part of that shift, but I'm saying diversity is not enough. If we judge work its own merit artistically, you would see diversity happen naturally.
Also Read: Margaret Cho Blasts 'SNL' for Inviting 'Known Racist' Donald Trump to Host
The shows are doing well, but do you think if they went off the air it would be another 20 years?
I don't think so. The world has shifted enough where we now are trying to include different voices, different kinds of people what is the universe of art. It is getting better. That Vanity Fair spread of all the late night talk show hosts and they're all clearly male, it's a big boys club, the printing of that was a truly feminist act. It showed the incredible misogyny in late night in a very innocent looking picture. So I think currently, with social media and the ability to call people out, it feels like it wouldn't take another long time to see more Asian-Americans, more diversity, which is a word I've grown to really despise. It's still the white status-quo defining who we are to entertainment. They're including us because they have to. Fuck that!
Also Read: Ken Jeong's 'Dr. Ken' Gets Full-Season Order From ABC
Would you consider coming back to lead your own TV show?
Absolutely. I plan on it. I have a number of projects in development. It's great because people know my history in TV. They know I was first on so many things and I'm proud of that. I do have some projects coming out that are, for me, not about diversity. They are just great. And the diversity angle of it is that I'm telling stories about my family and telling stories about my people, whoever that is. I'm finally up to the level of mainstream, white straight male artists, that's what I get to do now. I'm taking that moment and being very careful with it, because I realize it's a different way to look at what everything is. What we will accept from people of color, what we will accept from differently abled bodies, what we will accept from queer cultures. "Transparent" is a good example of that. It's not a show about diversity, it's about family, that just happens to include this story about somebody transitioning, and that is so beautiful and powerful. And that is something that actually saves lives.
"Dr. Ken" airs Fridays at 8:30 p.m. ET on ABC.