In its first couple of days, the determinedly anti-glitz Telluride Film Festival still managed to have its share of Hollywood glamour, with Ben Affleck and his feel-good "Argo" dominating day one and Bill Murray's surprise appearances alongside "Hyde Park on Hudson" the rage of day two.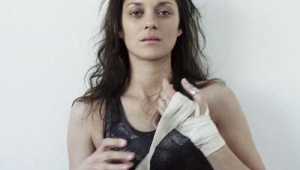 But on day three, things were a bit more arthouse-as-usual at the festival, with foreign stars deservedly dominating the landscape, in the form of official honorees Marion Cotillard (left) and Mads Mikkelsen. And two of the most beloved celebs were celebrity documentarians: Ken Burns and Errol Morris.
Also read: Bill Murray, Greta Gerwig Triumph in Telluride Premieres
Cotillard came with the absorbing Cannes hit "Rust & Bone," which could earn her the very rare honor of getting a second acting Oscar nod for a French-language role. She's both topless and bottomless—in a manner of speaking—in this very sexy role, playing an orca trainer befallen by a tragic mishap that causes her to lose most of her legs but none of her sensuality.
Her character falls for and tries to subtly domesticate a promiscuous bouncer/boxer, and viewers spend almost as much time wondering how that'll pan out as they do trying to calculate how much CGI went into making Cotillard such a visually credible double amputee.
Suffice it to say that anyone who ever had a hankering to fall in love with Cotillard before will walk away from this one musing that knees and feet were always overrated anyway.
Another international star with an unforgettable face, Mikkelsen (best known here for crying blood in "Casino Royale"), showed up with two top-flight Danish entries, "The Hunt" and "A Royal Affair," either of which could earn him American acting nominations — if all things were equal, as they rarely are.
He already picked up a best actor nod at Cannes for "Hunt," though that grueling saga of a teacher falsely accused of child molestation is likely to be a tough sell for stateside audiences. Still, things turn out a little better for Mikkelsen in that stomach-clenching drama than they do in "Affair," an epic could hit Americans' soft spot for regal lust and royal-court cunning.
Also read: Ben Affleck's 'Argo' Overshadows More Somber Oscar Bait at Telluride Opening
Two highly anticipated docs had their unofficial world premieres in Telluride: Ken Burns' "Central Park Five" and Errol Morris' "The Act of Killing." Giving either documentary auteur the possessive credit on those is actually a misnomer. Morris was only the producer on "Killing," where Burns co-directed "Central Park" with his daughter, who is said to be the primary mover on the project, and her husband. But both films will benefit from the branding in a challenging documentary market.
"The Central Park Five" tells the story of the five youngsters from Harlem who were tried and convicted for the 1989 "wilding" assault and rape of a jogger — falsely, as it turned out in a 2002 exoneration that got only a tiny fraction of the media coverage the initial indictments did. Sarah Burns told audiences she hoped her film would make them angry, and that's an appropriate response to the railroading that left young boys languishing in prison after being coerced into false confessions.
But even admiring viewers wondered whether the straightforward "Dateline"-like retelling could put it over the top in the Oscars' documentary category this year, especially when it may be facing Peter Jackson's "West of Memphis," a doc that similarly looks at a case of injustice following a teen's coerced admission of guilt.
Easily the boldest documentary at Telluride this year—maybe one of the boldest ever seen anywhere—is the Morris-produced "The Act of Killing" (left). Director Joshua Oppenheimer introduced the film Sunday night by warning audiences that although most films present a mixture of good and evil, his would be two hours of sheer, unrelenting evil.
And it certainly lives up to that billing, albeit in such uniquely conceived fashion that the doc is bound to become both a critical and cult favorite. Still, it's easy to imagine some members of the Academy's doc branch not making it through the relentless recountings of torture and mass murder.
Oppenheimer's gambit was to travel to Indonesia and convince the paramilitary leaders and gangsters who helped kill millions of alleged communists in the '60s to recreate their government-approved torture sessions and murders on film, in the style of the violent Hollywood movies that helped "inspire" their brutality.
Amazingly, these jovial, aging thugs were only too happy to oblige the filmmakers, providing a banality-of-evil portrait that culminates in an unforgettable realization of culpability and conscience among the otherwise remorseless killers.
This final act of "Killing," in which one of the gangsters plays one of his own victims on film and is seemingly shattered by the experience, is as vivid an ending as anything you'll see in fiction or non-fiction this year. But when it comes to Oscar consideration, no one should be surprised if this thoroughly remarkable documentary gets killed by kinder fare.