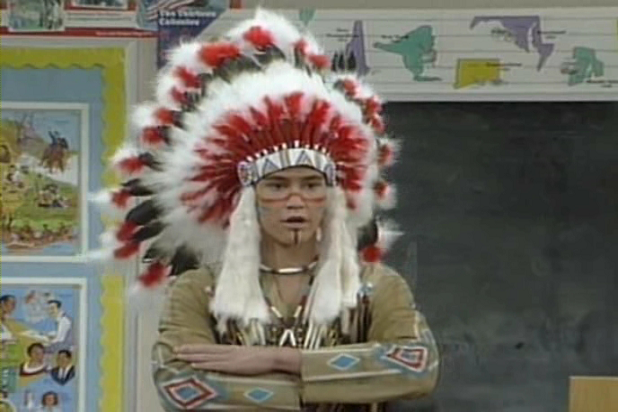 Mark-Paul Gosselaar is hoping to pass the peace pipe over a culturally questionable episode of "Saved by the Bell."
Gosselaar, who played Zack Morris on the comedy, apologized for the 1990 episode "Running Zack," which found Morris giving a "completely racist" presentation about Native Americans.
As Gosselaar told EW.com, the episode revolved around Morris discovering that he has Native American ancestry.
Also Read: 'Saved by the Bell' Star Dustin Diamond Is Back in Jail
"The one part of the episode — well, there's probably more parts — that I think specifically deserves an 'I'm Sorry About That': He gives a — I'm doing this in air quotes — 'presentation' that consists of putting war paint on Screech [Dustin Diamond] and giving him a toy tomahawk — and he has Screech stagger around and grunt at people. Zack doesn't get in trouble for this completely racist presentation, and the only punishment is he'll have to skip the big track meet if he doesn't take the project seriously."
After meeting with "Chief Henry," who "bestows wisdom" onto Zack, Morris delivers another, more serious presentation. Sort of.
"Of course, he gets into full Native American costume with face paint and a headdress. That's another 'I'm Sorry' moment," Gosselaar, who currently stars as Mike Lawson on Fox's baseball-themed series "Pitch," said.
Also Read: Amy Schumer 'Formation' Parody Blasted as Racist, Tone Deaf (Video)
"I hope the kids don't catch that episode," Gosselaar added.
Yeah, that would be terrible. But since we're all adults here, go ahead and watch the episode below.