"Martha Marcy May Marlene" may be drawing attention as the movie with the weird title, or the movie with the other Olsen sister in it. But there's a lot more to first-time Sean Durkin's creepy, unsettling drama than those obvious hooks.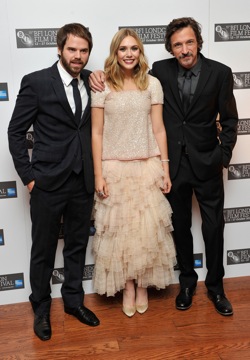 The film, which TheWrap's Alonso Duralde said "slowly but assuredly packs the dread and discomfort in a style that Roman Polanski would admire," features a remarkable performance by Elizabeth Olsen (younger sister of those twins) as a young woman trying to adjust to life outside the cult where she'd spent the last two years.
It takes place over the course of two weeks, where Olsen's Martha (the rest of the title is made up of her various pseudonyms) battles dislocation and a paranoia that may or may not be justified.
Also read: 'Martha Marcy May Marlene' the Chilling Feel-Bad Movie of the Year
Durkin's film does not offer easy or clear explanations, particularly with an ending that caused the Toronto audience I was in to erupt in a chorus of confusion: "What just happened?" "Who was in that car?" "What's going on?"
Infuriating as it can be to some viewers, the approach makes perfect sense, and helps make the demanding and thought-provoking drama one of the year's toughest and most haunting films.
TheWrap spoke to (above, left to right) Durkin, Olsen and last year's Oscar nominee (for "Winter's Bone") John Hawkes, who plays the cult leader with quiet menace.
GENESIS
Sean Durkin: Ultimately, the idea came out of my fear of cults, and fear of conforming. Religion always scared me growing up, and large conforming groups. But I was still like a huge soccer fan and would go to the stadium and be just as conforming as anything, so there's some hypocrisy there.
I found a story about a girl who escaped from a group that turned violent. The leader of the group later tracked her down, and instead of threatening her he gave her money and wished her well. And that struck me as a great place to start.
Elizabeth Olsen: True fear really fascinates me. This paranoid state that she's in was fascinating, and trying to figure out hope, and maybe some sort of light and possibility was also interesting. Every part of my body felt game and ready to do.
Durkin: I didn't want somebody who was just cut off and depressed, because then who cares? But when I met Lizzie, she was just the opposite of Martha. She was very vibrant, a bright personality, very infectious. So I thought that that, underneath Martha's shell, could create something interesting.
Olsen: It felt special to me, but I also was coming at it from a naïve point of view of not really understanding what it meant to get a distributor, or to get a studio behind you, or a festival buzz. I kinda wanted to make this movie in a really wholesome, blind way – just thinking, this is a great role, this is a great script, these people really love this, this is awesome. That's what it was for me, making a movie without any understanding of what happens afterwards.
THE CULT LEADER
John Hawkes: After "Winter's Bone," the studio offers I got were roles that were similar to what I'd already played before in size or scope. I certainly wasn't being offered lead roles, and I'm not against playing the same size roles I'd played before, but I just didn't care for the material that much.
Put it this way: I got a pretty large pile of scripts after the nomination, and I chose probably the two cheapest movies, that paid the least, much to my agent's dismay.
This was a really well written story, but I wasn't sure I was right for the part. I don't often play leaders of men. It was going to require a slippery thing called charisma, which I don't know how you manufacture or play. Some people just have it in their regular life, I'm certain I don't.
It was a choice to avoid the portraits and performances of cult leaders I'd seen in the past. No disservice to those – a lot of them are scenery-chewing performances, and probably a lot of fun. But if were going to follow this woman in her journey, she needs to be a credible person we can believe in and struggle with beside her.
If the moment you meet Patrick he's evil personified, a charlatan that you can spot a hundred yards away, it takes away from her character's credibility. If on the other hand you meet this guy and as the layers peel away you can see who he is but at the same time you can see why she fell in with these people, then it's a much more interesting story, to my mind.
WHO NEEDS PREP?
Durkin: After her two auditions, Lizzie and I only spoke for an hour before the shoot. We maybe had a phone call, and then we met one afternoon to talk. And after an hour she was like, "I think I've got what I need," and she went back to shooting this other movie. And came to our set a week later.
Olsen: What a cocky little person, huh? I thought, I have the script, I have an idea, and I talked to the director, and he told me enough, and I feel like I can relate to it in a certain way, and I'll figure it out on the set. I didn't really understand the process of making a movie.
I was making another movie, [Bruce Beresford's] "Peace, Love and Misunderstanding," and in the other movie, I played a daughter and a granddaughter, I like a boy, I'm a student… I played very simple things. This one was not so simple, but I acted like it was. I was like, "Okay, see you on set!" (laughs) I was so cocky.
THAT CONFOUNDING ENDING
Durkin: Every audience wants to know what's going to happen. But if they really take the time to think about it, I don't think that thing they think they want is as rewarding as they think it would be. It's like, all those questions you ask at the end of the movie, those are all the things that Martha is living with. And she's only two weeks out of an experience that takes years to process. She's going to keep living with those questions.
The film is supposed to take you through her experience, and when you leave the theater I want you living with what she's living with.
Olsen: It's an effective way of telling the story. If you're still in her head when the movie ends, you don't know what's happening.
ON THE OTHER HAND …
Olsen: There are moments in the movie where we don't know if she's imagining things or not. But just to act it, I had to make sure everything was real and everything was a threat. That's the only way I knew how to do it. I know that's not Sean's intention. I know that when I read the script for the first time, I certainly didn't think that way. But for me, now it's hard to watch the movie, because everything was real in her mind and in my head. The people who are experiencing that kind of thing, it is real to them. So everything had to be real to me, even if it's not.
RECEPTION
Durkin: We made the film we wanted to make, we didn't have anyone to answer to, and so when we showed up at the festival, we knew we made the best movie we could have made. We finished it on Tuesday, overnighted it to Sundance for Wednesday, arrived Thursday, screened Friday.
I don't think I'll ever be that nervous again. The screening ends, and you have no idea how it went. And then the reviews started to come in, Searchlight called on Sunday, and we made the deal in the middle of the night.
ON BEING A SUNDANCE "IT GIRL"
Olsen: There were about five of us, so I was in good company. When I think about Sundance now, I literally imagine it being a snow globe. The world exists, and there's this one snow globe, and things happen in there but the rest of the world doesn't see it. I remember going to home, and nothing had changed.
Well, maybe I got to read better scripts.
CELEBRITY
Olsen: Coming from my family definitely affected the choices I make. Because I'm not really interested in celebrity, I'm interested in working. I also think I was affected just by going to the high school I did. A lot of different people in the business send their kids there, or their kids themselves are in the business, and you learn a lot from that. It becomes a job, and if it's a good job you have money for that six months.
It becomes a practical thing. So it's never been about celebrity or fame, it's always been about work because of the people that surrounded me as a kid.
And I also didn't feel like I was the odd man out or the black sheep, because lots of people in my class had parents who were directors for commercials or did different things in the business, and none of it was put on a pedestal over friends whose parents were lawyers or literary writers.
The idea of celebrities being bathed in gold light was kind of stripped away – even though I still put some actresses and actors in that type of light. Certainly someone like Cate Blanchett, in my mind, literally glows when she walks. So it's nice to have that, but also nice to have the reality of the job.
(Note: since my son was a year behind Olsen at Campbell Hall, the high school she's talking about, here's the young Lizzie Olsen from the 2007 yearbook: as Titania in the school production of "A Midsummer Night's Dream," fondling the donkey-headed Bottom, above, and as "Mrs. Teacher's Pet," right.)
Hawkes: I didn't know that her sisters were famous. I just saw her as this interesting and vital young person.
What I saw was someone who seemed able to carry this movie with a joy and an enthusiasm and an expertise that was really behond her years. Having worked with Jennifer Lawrence just a year and a half previous, I was really struck by the wonderful similarities. One of them is the ability to play physically and emotionally dark scenes in a healthier way that perhaps I can, and let that go and return to a sunny disposition pretty quickly.
THE LONG AND WINDING ROAD
Olsen: We finished the movie in October, but talking about this movie is going to be lasting for a while. It's like defined my year, even though I've been working on other projects. If I'm signing up for another project, we say, "Okay, but we have to work around the publicity schedule for 'Martha Marcy May Marlene.'"
You don't think when you sign up for a film for five weeks that it's going to define the following year of your life. But it's been really cool.