Martin Starr may be best known for his role as a long-haired misanthrope on HBO's "Silicon Valley," but the actor landed a key supporting role in this summer's eagerly anticipated superhero reboot "Spider-Man: Homecoming."
In an interview with TheWrap, Starr confirmed that he plays a teacher at teenager Peter Parker's (Tom Holland) New York City high school.
"I'm the academic decathlon coach and one of the teachers at the school so I have a bit of a thing in it," he said.
---
Also Read:
How Spider-Man Tom Holland Earned Batman Michael Keaton's Respect (Exclusive)
---
Starr, who said that he hadn't seen the finished film itself, was coy about sharing too many details about director Jon Watts' reboot, a collaboration between Disney's Marvel and Sony.
But he did allow that it's a unique take on the story of Spider-Man previously explored by Tobey Maguire and Andrew Garfield.
"It's capitalizing on popularity and a story that's very rich and dense, so there's a lot left to tell," he said. "And this isn't a familiar take on it — this is a unique kind of take of a younger Spider-Man trying to figure out life again."
---
See Video: 'Spider-Man: Homecoming' New Trailer: Vulture Wreaks Havoc on Staten Island Ferry
---
He added, "The story has a lot of action and fun in it, but it's also a sweet, coming-of-age story of a kid."
Starr also had high praise for Holland, a British actor who first played Spidey and Peter Parker in last year's "Captain America: Civil War. "Tom is great," Starr said. "He's captivating and he's fun to act with."
"Spider-Man: Homecoming" also stars Robert Downey Jr., Michael Keaton, Marisa Tomei, Zendaya, Donald Glover, Jacob Batalon, Laura Harrier, and Tony Revolori.
"Spider-Man: Homecoming" hits theaters July 7.
[powergridprofile powerrank="2408" node="246559" type="person" path="http://powergrid.thewrap.com/person/martin-starr" title="Martin Starr" image="martin_starr"]
7 Things We Learned About 'Spider-Man: Homecoming' in First Trailer (Photos)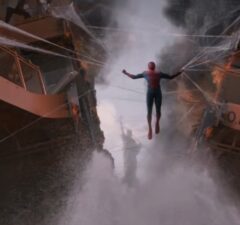 (Tap photo and swipe to view gallery)