Mediabistro is interested in buying paidContent, but not for anywhere close to the $15 million asking price originally reported, TheWrap has learned.
In fact, not for money at all.
"Over the years we've been interested," Alan Meckler, CEO of WebMediaBrands which owns Mediabistro, told TheWrap. "I would imagine at some point someone could buy it, possibly for just the liabilities."
Meckler agreed with other observers – including paidContent founder Rafat Ali – that the site and its related MocoNews.net and Paidcontent:Uk are not worth anything like the figure spun in some news reports.
On Monday Guardian Media said that ContentNext was up for sale. Reports pegged the asking price at $15-$20 million, a combination of what they paid Ali in 2008 and invested since then.
Also read: The Guardian Shops paidContent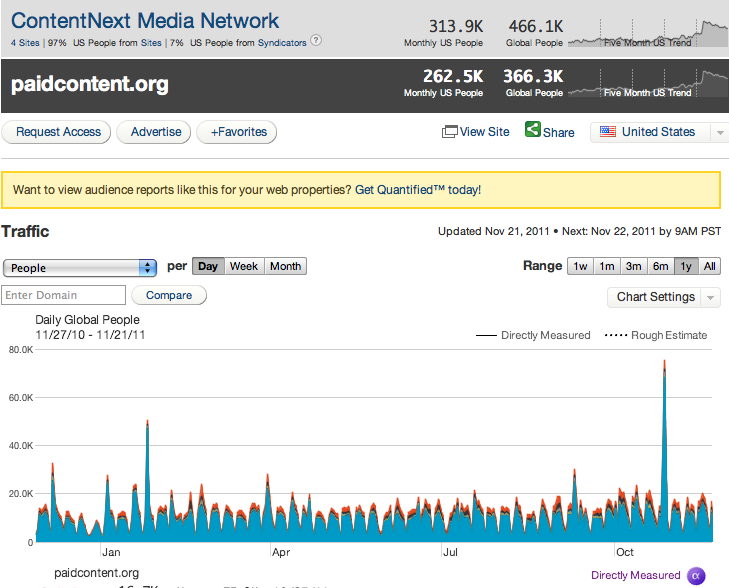 But even a cursory analysis shows that figure makes no sense. Indeed, the Guardian has since said that it does not recognize that valuation of a potential deal.
In fact it's hard to see how the site is not losing money – with no visible advertising other than network ads, and traffic that hasn't changed much in years.
The site's respected editor Staci Kramer does not write as often as she used to, and Ali has been gone for more than a year. And it still has to support a staff of 16, according to the Guardian.
That's a lot of overhead for a site that commands about 366,000 unique monthly visits according to Quantcast.com, with the full network drawing about 466,000 unique visits.
That is not substantially more than when Guardian bought the site, and flies in the face of the Guardian's claim on Monday of huge growth:
"paidContent.org's unique users were up more than 130 percent between October 2009 and October 2011, to 639,000, while page views were up over 38 percent, to more than 1.3 million," according to the article on paidContent, which does not cite the source for the information.
Site executive editor Ernie Sander and COO Caryn Whitman did not immediately respond to a request for comment.
"Considering the competitive situation and what paidContent hasn't done to raise to the level of the site, I think it's an overambitious number," Ali told TheWrap of the reported asking price. "Especially considering they haven't invested in it. If anything they have cut out on a lot of things."
Ali stepped away from the site more than a year ago, disappointed that Guardian did not invest in building out a paidContent into the hub of a network of niche sites as its original strategy indicated.
At the site's peak in 2007 it took in about $3.5 million in revenue per year. Now, knowledgeable observers estimate that it's taking in about $1-$2 million a year from advertising and the several media conferences per year.
I wish I knew of a list of suitors for the site. Guardian media in the United States keeps growing – now at about 10 million unique readers per month. Meanwhile paidContent has been left to languish, a neglected stepchild.
Meckler said the site would make sense as a partner to MediaBistro, which covers media, but doesn't cover deal-making as paidContent does.
He suggested that his company could reduce a lot of overhead through consolidation. "We could take out a lot of cost and turn it around," he said. "But it's difficult to be successful as an independent operation."