It's been a great year for broadcasters, with one big exception: TV's biggest tentpole hits from the past decade are sagging badly this season.
And so far, no new blockbusters have emerged to replace them.
The proof, as always, is in the Nielsen numbers (see chart below). Signature series that transformed their respective networks and helped define the first part of the new century — "CSI," "Grey's Anatomy," "Desperate Housewives" — are experiencing double-digit declines.
They're still big hits, but they no longer pack a knockout punch in the ratings.
Nobody expects scripted TV shows to live forever, of course.
"It's just viewer fatigue," one network wag told TheWrap. "What happens is that shows are white hot, then they're red hot, then they become steel. They're not white-hot anymore — but they're still steel."
That's why network suits aren't panicking at the audience shrinkage for these once-mighty warriors. "These are still among the most popular series on television," CBS strategist-in-chief Kelly Kahl correctly noted.
Still, the steep fall-off by veterans — which in some cases has picked up since the start of the calendar year — is likely to be top of mind in the coming weeks as programmers put together new schedules for their fall campaigns.
Already, there's industry speculation that CBS — which has a deep bench filled with younger shows filled with growth potential — might decide to move "CSI" out of its 9 p.m. Thursday anchor position.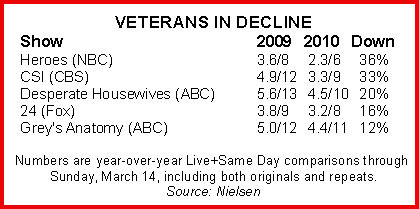 Scenarios floated by rivals include possibly having it swap places with current 10 p.m. Thursday drama "The Mentalist" or perhaps moving it to a new night in order to make room for a hot newcomer.
Kahl, of course, wouldn't discuss Eye strategy. He did, however, acknowledge that "CSI" faces fierce foes in its longtime home.
"Thursday at 9 is probably the most competitive time period on TV," he said. "Nobody is throwing up an airball."
The rivalry has taken its toll.
While "CSI" is still a Top 10 show in total viewers, and a huge moneymaking machine for parent CBS Corp., the forensic artists from Sin City are down a stunning 33 percent this season among adults 18-49.
"CSI" has even finished in third place in its timeslot a few times this season, something that as recently as two years ago was unheard of.
Its timeslot competitor over at ABC, "Grey's Anatomy," has also declined markedly. It's down 12 percent this season, with episodes since the start of the year showing even further losses.
ABC's other blockbuster from the last decade, "Desperate Housewives," isn't immune to the aging process, either. Thanks in part to a greatly diminished lead-in from the fast-fading "Extreme Makeover: Home Edition," the gals of Wisteria Lane are off 20 percent versus last season.
ABC scheduling chief Jeff Bader says that one of "biggest challenges of scheduling" is managing the life cycles of blockbusters.


"When you have a show that's a dominant No. 1 in its timeslot, the question is always at what point do you take the gamble of replacing it with something (newer)," he said, noting that networks have been having these conversations for years.
"The environment is just much more complicated now," he says.
It's worth noting here that some of the erosion stats might not accurately reflect how a show is truly playing with viewers these days.
That's because DVR penetration has spiked sharply in recent years, as evidenced by so-called "live plus seven" data that shows hit series — particularly on ABC — picking up millions of viewers when playback figures are included.
And many viewers are deciding to watch serialized series such as "Grey's" or "24" via DVD boxed sets, Hulu marathons or on-demand platforms.
Advertisers don't always care about such points, however salient. That's why networks still rely on old-fashioned scheduling savvy to keep shows hot.


Fox, for instance, tried to get ahead of the erosion cycle with some of its more successful dramas a couple years ago. It shifted "House" to Mondays and "Bones" to Thursdays, even though both moves resulted in initially lower Nielsen numbers. ("House" went from a 6.1/15 two seasons ago to a 4.3/11 so far this year).
But after absorbing some pain, the network managed to establish new mini-tentpoles on Monday and Thursday nights, strengthening its overall performance.
"It set us up to have more success across our whole schedule," said Fox scheduling guru Preston Beckman, who said TV has historically been a business of forestalling certain death.
"It's inevitable that these shows are going to go down," he said. "If you can get two years of growth out of a scripted show, then it's about managing the decline. The hardest thing to do is to figure out when to make a move."
Sometimes networks simply keep a show in place for most of its run. "ER," for example, never budged from 10 p.m. Thursday and ended up running for 15 years.
Fox's "24" has also been a Monday night staple the past eight years. This season, however, it's down 16 percent and is said to be close to cancellation.
Creatively, networks also need to be proactive. From a moment a series premieres — be it a smash hit or a struggling underperformer — networks and studios work with showrunners to figure out how to make a program a bigger hit.
"These shows are continually tweaking the creative and doing things to bring new viewers in," ABC's Bader said.
Marc Cherry reinvigorated "Desperate Housewives" with his flash-forward storyline stunt. And Dick Wolf and his team of "Law & Order" showrunners have kept the original series on the air for an amazing two decades.
"It's hard, but occasionally you can do things to jump start a show," Bader said.
"Grey's" has added a number of new doctors in recent years, and likely will add more next season. And while "CSI" took a big hit with William Petersen's departure last year, there's no reason viewers might not return to the scene of the crime again if producers add in a compelling new character (or somehow woo Petersen back).
What's more, the other good news for the networks is that this season has seen strong performances by many first- and second-year shows, with seven freshmen series improving their timeslots. Overall network viewership is actually up 4 percent, thanks to shows early in their run (plus reality show staples that have seen ratings rebounds).
Young scripted shows with big upsides right now include "NCIS: LA," "The Mentalist," "The Middle," "Modern Family," "The Good Wife," "Parks and Recreation," "Community" and "Glee."
Bottom line: While it's sometimes painful to see once-superhuman series return to earth, network executives consider blockbuster fatigue to be a high-class problem.
After all, it's far better to have aging scripted tentpoles than no tentpoles at all. Just ask NBC.