The International Film Music Critics Association has spoken, and the nominees are …
Everybody.
But mostly Michael Giacchino.
With 11 different categories for new films, plus categories for television, videogames, re-recordings and reissues, the organization saluted almost 50 different composers when it released its annual nominations on Friday. But Giacchino led all composers with a record nine separate nominations, which came for the films "Up" and "Star Trek," the documentary "Earth Days" and the television series "Lost."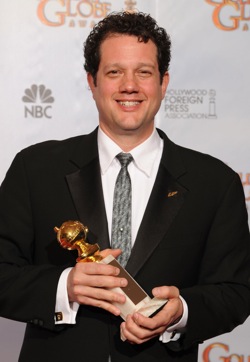 (Right, Giacchino after winning the Golden Globe for "Up." Photo: Kevin Winter: Getty Images)
Nominees for film score of the year included "Up" and "Star Trek," plus "Avatar" (James Horner), "Drag Me to Hell" (Christopher Young) and "The Twilight Saga: New Moon" (Alexandre Desplat).
The IFMCA singled out scores in seven different genres: drama film, comedy film, action/adventure film, fantasy/science fiction film, horror/thriller film, animated feature and documentary feature. It also nominated specific tracks for Film Music Composition of the Year, and had two categories honoring Film Composer of the Year and Breakout Composer of the Year.
Besides Giacchino, composers receiving multiple nominations include Alexandre Desplat, James Horner, Christopher Young, Brian Tyler, James Peterson, Abel Korzeniowski and Hans Zimmer.
Legendary composer Ennio Morricone, age 81, received a nomination for his score to the Italian film "Baaria."
The complete list of nominations:
FILM SCORE OF THE YEAR
AVATAR, music by James Horner

DRAG ME TO HELL, music by Christopher Young

STAR TREK, music by Michael Giacchino

THE TWILIGHT SAGA: NEW MOON, music by Alexandre Desplat

UP, music by Michael Giacchino
FILM COMPOSER OF THE YEAR
Alexandre Desplat

Michael Giacchino

James Horner

Brian Tyler

Christopher Young
BREAKOUT COMPOSER OF THE YEAR
Henry Jackman

Abel Korzeniowski

James Peterson

Clinton Shorter

Austin Wintory
BEST ORIGINAL SCORE FOR A DRAMA FILM
AGORA, music by Dario Marianelli
BAARÌA, music by Ennio Morricone

CREATION, music by Christopher Young

MAO'S LAST DANCER, music by Christopher Gordon

A SINGLE MAN, music by Abel Korzeniowski
BEST ORIGINAL SCORE FOR A COMEDY FILM
COUPLES RETREAT, music by A.R. Rahman

DUPLICITY, music by James Newton Howard

THE INFORMANT!, music by Marvin Hamlisch

JULIE & JULIA, music by Alexandre Desplat
LESBIAN VAMPIRE KILLERS, music by Debbie Wiseman
BEST ORIGINAL SCORE FOR AN ACTION/ADVENTURE FILM
G.I. JOE: THE RISE OF COBRA, music by Alan Silvestri

LUCKY LUKE, music by Bruno Coulais

THE RED CANVAS, music by James Peterson

SHERLOCK HOLMES, music by Hans Zimmer

UNDER THE MOUNTAIN, music by Victoria Kelly
BEST ORIGINAL SCORE FOR A FANTASY/SCIENCE FICTION FILM
AVATAR, music by James Horner

THE IMAGINARIUM OF DOCTOR PARNASSUS, music by Mychael Danna and Jeff Danna

KNOWING, music by Marco Beltrami

STAR TREK, music by Michael Giacchino

THE TWILIGHT SAGA: NEW MOON, music by Alexandre Desplat
BEST ORIGINAL SCORE FOR A HORROR/THRILLER FILM
DRAG ME TO HELL, music by Christopher Young

IMAGO MORTIS, music by Zacarías M. de la Riva

IN THE ELECTRIC MIST, music by Marco Beltrami

THE KILLING ROOM, music by Brian Tyler

TRICK 'R TREAT, music by Douglas Pipes
BEST ORIGINAL SCORE FOR AN ANIMATED FEATURE
A CHRISTMAS CAROL, music by Alan Silvestri

CORALINE, music by Bruno Coulais

FANTASTIC MR. FOX, music by Alexandre Desplat

THE PRINCESS AND THE FROG, music by Randy Newman

UP, music by Michael Giacchino
BEST ORIGINAL SCORE FOR A DOCUMENTARY FEATURE
BROTHERS AT WAR, music by Lee Holdridge

EARTH DAYS, music by Michael Giacchino
GARBO: EL ESPÍA, music by Fernando Velázquez

HOME, music by Armand Amar

UNDER THE SEA 3D, music by Micky Erbe and Maribeth Solomon
FILM MUSIC COMPOSITION OF THE YEAR
AVATAR – "War," music by James Horner

DRAG ME TO HELL – "Concerto to Hell," music by Christopher Young

THE RED CANVAS – "Ballet for Brawlers," music by James Peterson

STAR TREK – "Enterprising Young Men," music by Michael Giacchino

UP – "Married Life," music by Michael Giacchino
BEST ORIGINAL SCORE FOR TELEVISION
BATTLESTAR GALACTICA [SEASON 4.5], music by Bear McCreary

CAPRICA, music by Bear McCreary

LIFE, music by George Fenton

LOST [SEASON 5], music by Michael Giacchino

YELLOWSTONE, music by Edmund Butt
BEST ORIGINAL SCORE FOR A VIDEO GAME OR INTERACTIVE MEDIA
ASSASSIN'S CREED II, music by Jesper Kyd

CALL OF DUTY: MODERN WARFARE 2, music by Lorne Balfe and Hans Zimmer

HARRY POTTER AND THE HALF-BLOOD PRINCE, music by James Hannigan

NIGHT AT THE MUSEUM: BATTLE OF THE SMITHSONIAN, music by Chris Tilton

SPORE HERO, music by Winifred Phillips
BEST NEW RELEASE/RE-RELEASE OF AN EXISTING SCORE
BACK TO THE FUTURE, music by Alan Silvestri; Douglass Fake, producer (Intrada)

INNERSPACE, music by Jerry Goldsmith; M.V. Gerhard and Mike Matessino, producers (La-La Land)

THE JOURNEY OF NATTY GANN, music by James Horner; James Horner, Simon Rhodes and Douglass Fake, producers (Intrada)

STAR TREK II: THE WRATH OF KHAN, music by James Horner; Lukas Kendall, producer (Film Score Monthly)

TWILIGHT ZONE: THE MOVIE, music by Jerry Goldsmith; Bruce Botnick, Lukas Kendall and Mike Matessino, producers (Film Score Monthly)
BEST RE-RECORDING OF AN EXISTING SCORE
THE CHARGE OF THE LIGHT BRIGADE, music by Max Steiner, cond. William Stromberg; Anna Bonn, John Morgan and William Stromberg, producers (Tribute Film Classics)
EXODUS, music by Ernest Gold, cond. Nic Raine; James Fitzpatrick, producer (Tadlow)

THE PRINCE AND THE PAUPER, music by Erich Wolfgang Korngold, cond. William Stromberg; Anna Bonn, John Morgan and William Stromberg, producers (Tribute Film Classics)
BEST FILM MUSIC COMPILATION ALBUM OR BOX SET
40 BANDES ORIGINALES POUR 40 FILMS, music by Vladimir Cosma; Vladimir Cosma, producer (Larghetto Music)

DAVID RAKSIN AT M-G-M, music by David Raksin; Lukas Kendall, producer (Film Score Monthly)

THE FILM MUSIC OF MISCHA SPOLIANSKY, music by Mischa Spoliansky; Philip Lane, Ralph Couzens and Neil Varley, producers (Chandos)

HOWARD SHORE: COLLECTOR'S EDITION Vol. 1, music by Howard Shore; Jonathan Schultz, producer (Howe)

NORTHWEST PASSAGE: CLASSIC WESTERN SCORES FROM M-G-M Vol. 2 (1940-1974), music by various composers; Lukas Kendall, producer (Film Score Monthly)
FILM MUSIC RECORD LABEL OF THE YEAR
Film Score Monthly

Intrada

La-La Land Records

MovieScore Media

Varèse Sarabande