Who could play First Lady Michelle Obama on the silver screen?
Following the European triumph by President Barack Obama and the First Lady last week, that question is not just a Hollywood parlor game -- it is another way of saying that Michelle Obama is now officially the Biggest Star in the World.
Unless you spent last week under a rock, it was impossible to avoid the stunning images of the First Couple beamed around the world from the G-20 Summit. And by now, as Michelle Obama returns here to the nation's capitol, calling her the Biggest Star in the World is not an understatement.
Millions worldwide followed the president and first lady from London to France to Prague, with the media oozing a lovefest that at times bordered on embarrasing:
"Michelle Obama: The Genuine Article," read the headline on the April 3 report by Michael White, the liberal Guardian UK's usually crotchety columnist. "First Lady of Fashion," blurted a headline in the conservative Telegraph on the same day.
Stateside reports were equally gushy, with some commentators virtually swooning in print over the star power that POTUS and FLOTUS showered across the Continent:
"Looking at the news clips from London of Michelle next to all the other well-put-together first ladies," said a breathless Tina Brown in a column at TheDailyBeast, "there's a red-blooded realness to her that almost makes you feel the warmth of those long, sculpted arms."
The headline on that piece was, "Is Michelle Obama the New Oprah?," and I suppose we can forgive Mrs. Harold Evans for sounding like a line-sitter at Harpo Studios in Chicago's South Side.
But the prevailing comparisons of Michelle Obama to Oprah, or to Jackie Kennedy, are so far off the mark as to be laughable if they didn't so soundly and directly betray the lack of cultural knowledge of our leading media pundits.
No, the Oprah and Jackie O comparisons are quite inadequate.
Well before the Obamas stormed Europe, it crossed my mind that Michelle Obama would present a prickly pear for most journalists and others who serve as the intellectual-property gatekeepers of our popular culture.
She is empathetic, sophisticated, newly middle-aged, smart as a whip, glamorous, dark-skinned, accessible and very, very married.
Michelle Obama is, in other words, a salt-of-the-earth black woman of the kind that has long existed in America -- a type which, sadly, has largely escaped the attention and celebration of the prevailing white culture.
Her star power is exotic and surprising only to those unfamiliar with the particulars of the Black American Experience. For everyone else, me included, she is as familiar as the MLK-embossed fans handed out in the pews on Sunday mornings -- the "togetha sister" who always wore the shiniest Mary Janes, who always handed in her homework on time, who dated sparingly.
As Michelle told the schoolgirls in London last week, she has always valued being smart above nearly all else. (Back in my day, such Poindexters were grudgingly admired by those of us less dedicated to pulling down straight As.)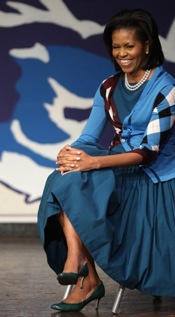 This approach to academic accomplishment is actually a throwback to segregation-era black life, when African-Americans viewed educational opportunity as a valuable, hard-won path to self-sufficiency, not as a sign that one had given up and "sold out" to "white" expectations. And what springs so readily from that high achiever posture is sheer personal power and self-confidence.
Her grandness comes, in part, from intellectual rigor and academic accomplishment -- a fact that apparently hit home, for the first time, for many observers after she said she saw that potential in those London girls, too. Her authenticity resonates with millions because it is ordinary, if finely-tuned. Her ability to connect with "regular people," is not enhanced by tragedy-- as was the case with Jackie O. -- or pathology -- as is the case with Oprah, as far as we can see.
The incandescense surrounding the President and First Lady is not necessarily remarkable in and of itself, says Erna Smith, Professor of Professional Practice at the Annenberg's School of Journalism at USC.
"I watched some of the coverage of the President and First Lady in Europe, and at first, I couldn't figure out what everyone was so worked up about," said Smith, who is African-American.
"She doesn't do anything radical, I actually find most of what she says pretty socially conservative. But I think there are two big differences that are driving this frenzy of coverage," Smith said.
"Michelle Obama is unique in where she decides to go, visiting soup kitchens, and that school in London with primarily black and brown girls ... I got choked up when I saw that. But she is not at all exotic to me. She is like plenty of black women I know. So, clearly, the real 'news' is that a black woman like Michelle Obama is 'news' to so many journalists."
Folks from the African-American community within shouting distance of the White House have had that experience too.
At Miriam's Kitchen, a homeless services nonprofit in downtown D.C., the staff and "guests" are still chattering about the visit paid them by Michelle early in March.
Sara Gibson, Director of Development, said she and the rest of the staff are grateful that Michelle not only visited and served lunch for 30 minutes, but that the First Lady "really was present, while she was with us. She was so comfortable and open that it was clear that she was there because of what she believes in."
Gibson said Michelle's visit has resulted in "noticeable' uptick in contributions, including from far-flung people who send notes along with their checks: "In honor of the First Lady," is a typical inscription, Gibson said.
For the homeless who receive services at Miriam's Kitchen, and for other denizens of some of D.C.'s historically hard-luck neighborhoods, the Obamas' sneak appearances are striking a chord that many had forgotten existed -- a longing to be a valued player on the most powerful national team in the world.
Amy Alexander is an author and journalist based in Washington, D.C. Her next book, "Minority Opinion: A Story of Race, Media, and Reinvention," will be published in January 2010 by Beacon Press. Her email address is: AmyAlex63@gmail.com