Mike Wallace, the "60 Minutes" veteran who left no question unasked, has died. He was 93.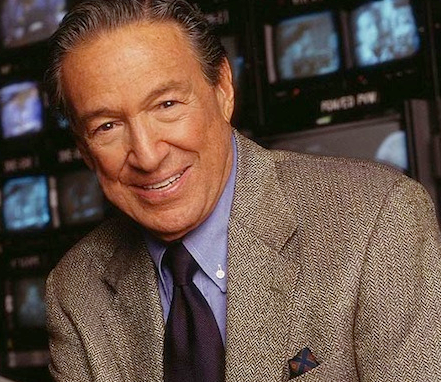 "Face the Nation" host Bob Schieffer announced on the program Sunday that Wallace had died Saturday night at a care facility in New Haven, Conn., where Wallace had lived in recent years.
Also read: Remembering Mike Wallace — A Legend With a Dark Secret
"It is with tremendous sadness that we mark the passing of Mike Wallace. His extraordinary contribution as a broadcaster is immeasurable and he has been a force within the television industry throughout its existence. His loss will be felt by all of us at CBS," said CBS president Leslie Moonves.
Also read: Andy Rooney Dies at 92 After Decades of Curmudgeonly Commentary
Wallace worked on CBS' "60 Minutes" from its premiere in 1968 through his retirement in 2006, but still scored big interviews for the show after he stopped contributing full-time. His last one was a Jan. 6, 2008 interview in which he grilled Roger Clemens about steroids. Wallace underwent triple-bypass surgery in the same month, and subsequently retired from public life.
His death comes soon after the November passing of another "60 Minutes" icon, Andy Rooney, who died at 92, a month after his final curmudgeonly commentary.
In an appreciation published Sunday, "60 Minutes" colleague Morley Safer recalled Wallace as a self-described "nosy and insistent" reporter.
He asked the Ayatollah Khoumeini if he were crazy. He asked mobster Mickey Cohen how many men he had killed. He lectured Russian President Vladimir Putin, on corruption, and Palestinian leader Yassir Arafat on violence.
He interviewed presidents from John F. Kennedy to his friend, Ronald Reagan, as well as some of the greatest artists and entertainers of his lifetime, from Leonard Bernstein to Johnny Carson to Salvador Dali.
Beneath a cocky exterior, depression lurked. He was treated three times for severe depression, Safer said. He admitted to Safer that he once tried to kill himself with sleeping pills.
Wallace traveled with Martin Luther King, Jr., whom he later called his hero, and introduced most of white America to the Nation of Islam and Malcolm X in the 1959 documentary "The Hate That Hate Produced," which he produced with Louis Lomax.
In an interview with Wallace months before his assassination, Malcolm X alleged that the Nation of Islam's leader, Elijah Muhammad, had impregnated several young secretaries. Asked if he was worried about his safety, he responded, "I probably am a dead man already."
Story continues after clip of the Malcolm X interview:
Wallace, whose early broadcast career included a stint as an announcer for "The Green Hornet" in 1941, honed his relentless interviewing style on "Nightbeat," where, Wallace said, "We decided to ask the irreverent question, the abrasive question, the who-gives-a-damn question."
Guests grew to expect contentious exchanges. "Go ahead and ask your stupid questions," said one, labor leader Mike Quill.
He was portrayed by Christopher Plummer in Michael Mann's 1999 film "The Insider," which detailed how "60 Minutes" was pressured to alter an interview with tobacco executive Jeffrey Wigand. The report aired in 1995, and eventually, in its uncensored form in 1996. The film suggested that Wallace had capitulated to corporate pressure, which he denied. He worked on the story with Lowell Bergmann, his longtime producer and confidante.
His survivors include son Chris Wallace, host of Fox News Sunday. "60 Minutes" plans a look back on Wallace's life next Sunday.