USC Annenberg School for Communication and Journalism Dean Willow Bay asked if there is a legal solution to combat fake news during a panel discussion on Wednesday as industry leaders participated in a passionate discussion.
Bay moderated the discussion titled, "Fake News: Negotiating Politics and Society in a Post-Truth World," on Wednesday at Milken Institute's Global Conference in Beverly Hills.
"Journalism is going through profound disruption… it is terrifying," Facebook head of partnerships Campbell Brown said before explaining that Facebook is not a news organization, but is part of the "news ecosystem" because so many people consume news on the platform.
Also Read: Facebook Will Hire 3,000 More Employees to Monitor Live Streams for Crime, Suicide
The panel agreed that the government doesn't need to intervene at the moment, but also agreed that something needs to be done in order to protect the future of journalism.
The term "fake news" is in the midst of a significant cultural moment, as people on both sides of the political spectrum have blamed resulted they don't agree with on false or misleading stories. Many point to "fake news" as a reason why Donald Trump defeated Hillary Clinton on Election Day, but the president is quick to throw around the term himself.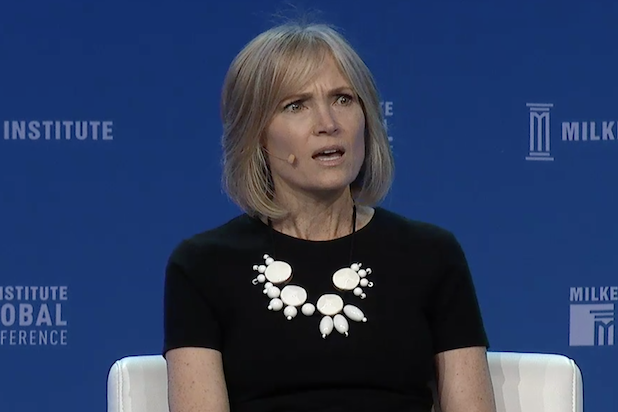 Trump often refers to CNN as "fake news" and his team recently released a commercial that mocks various reporters with the term stamped over their faces in bold, red font. New York Times deputy managing editor Rebecca Blumenstein was quick to bring up that the Times is often called "failing" by the president, but digital subscriptions have increased as readers crave accurate news.
"Fake news has almost become just a convenient excuses for people to throw out when they disagree with something," Blumenstein said.
Blumenstein admitted that the media got the election wrong and needs to look at what role it plays in reflecting Americans who don't live in the in coastal cities such as New York and Los Angeles. The panel discussed that young people are getting news from social media these days, but Brown said that the echo chamber created on platforms such as Facebook is similar to the echo chamber cable news viewers experience when they only watch the network that coincides with their beliefs.
Also Read: New York Times Q1 Print Ad Sales Drop Almost 18 Percent From 2016
"Diversity is complicated," Brown said. "We do not want false news of any kind on the platform."
She said that most false news is financially driven and Facebook is trying to distrust the financial incentives. The more alarming aspect of fake news, according to Brown, is when false news is purposely used to create a conversation to sway public opinion.
Bay pondered if its possible to solve false news during a climate when fake news is used as a weapon. Brown's solution is to start at the community level and noted that investing in digital literacy is something that needs to be done.
"My kids are never going to open up a text book in their entire lives," Brown said. She explained that kids need to be educated on the difference between legitimate news organizations and fake news sites.
Bay jumped in, noting that USC's journalism school has implemented similar programs.
Weekly Standard editor-in-chief Stephen Hayes, former White House Press Secretary Scott McClellan and Cheddar CEO Jon Steinberg joined Bay, Blumenstein and Brown for the discussion.