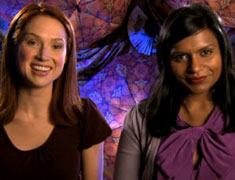 As teased during the end credits of Thursday's episode of "The Office," Kelly Kapoor and Erin Hannon — the flirtatious characters played, respectively, by Mindy Kaling and Ellie Kemper — are back with a new single, "The Girl Next Door."
Performing yet again as Subtle Sexuality, the duo's fictitional Scranton-based group has followed-up on its real 2009 track "Male Prima Donna" with the sickly sweet new song.
Also read: 'Male Prima Donna' — A Tribute to Ben Silverman?
Kapoor and Hannon's sophomore release leaves them only 45 songs or so shy of Phoebe Buffay's crazy output during her run on "Friends," which included her best known composition, "Smelly Cat."
But maybe being prolific isn't as important in fake Scranton as being beautiful. Am I right, Kelly and Erin?
Check out the new Subtle Sexuality video, and head over to the official website to see the behind-the-music documentary, which also stars Andy Bernard (Ed Helms) and Ryan Howard (B.J. Novak).