Oscar ballots went in the mail today, and the Academy and PricewaterhouseCoopers staged a photo-op to commemorate the occasion.
But that's only part of the story.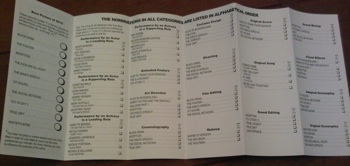 By the end of the week, Academy members will have a valuable piece of paper in hand: eight-and-a-half inches high by 20 inches long, folded into six separate panels, with the first panel sporting all 10 Best Picture nominees. Another 18 categories, from Performance by an Actor in a Leading Role to Original Screenplay, are spread out across the rest of the ballot.
But that makes 19 categories, five fewer than the 24 in which the Oscars give awards.
Those other five aren't on the ballot; for those, Academy voters have to turn to the "IMPORTANT NOTE" they received with their ballots. The note covers the remaining five categories: Live-Action Short Film, Animated Short Film, Documentary Short Film, Documentary Feature Film and Foreign Language Film.
And that's where things get a little tricky – and where a voting body that for most awards numbers close to 6,000 may regrettably be reduced to the hundreds in some of the categories where you'll find the best movies.
In the three shorts categories, things are relatively straightforward: voters have to attend special Academy screenings, at which they receive a ballot, see all five nominated films and then leave their ballot with PricewaterhouseCoopers reps on their way out. Members who go to one of those screenings can vote; ones who don't, can't.
The Live-Action and Animated screenings take place back-to-back on February 5, 7, 12 and 18. The Documentary Shorts program, which lasts more than three hours, screens on February 5, 12 and 18 with the other shorts, and on February 3 by itself.
(Also read: AMPAS Screenings Mix 'n' Match With Odd Pairings.)
Things get more complicated with the Documentary Feature and Foreign Language Film categories. The basic rule in both is that members can only vote if they see all five nominees "in a theatrical setting"; screeners don't count, and if it's not good enough to have seen three or four out of the five.
That means that voters aren't allowed to catch up with doc nominees "Exit Through the Gift Shop" and "Restrepo" on Netflix streaming. (Ironically, the first stage of the doc process, by which the shortlist is chosen, relies exclusively on screeners.)
And it means that while Sony Pictures Classics is actively screening its Foreign-Language nominees "Incendies" and "In a Better World," and Roadside Attractions has Mexican entry "Biutiful" in theatrical release, members who see those films still can't vote until they've tracked down "Outside the Law" and "Dogtooth," both of which have completed their theatrical runs and have not scheduled many screenings outside their official AMPAS showings.
(Voters who saw those films on the big screen during their theatrical runs in 2010 can request a ballot from the Academy and fill out a form specifying when and where they saw the movies.)
The rule that you must see all five films in a theatrical setting is one reason why those categories can be harder to predict: pundits can't fall back on which film is the highest-profile or the most critically well-regarded, because those considerations don't really matter.
I was on an International Documentary Association panel on Monday night with Academy documentary-branch governor (and Oscar-winner) Lynne Littman, and she said that requirement was one of the things she loved most about the doc process, because it reduces the impact of campaigning and brings the decision down to a simple one: which movie did you think was the best?
But it's also a process that significantly reduces the number of voters in those categories. Littman said she didn't know how many members cast ballots, but thought it was in the hundreds rather than the thousands.
And it's a process that some have tried to manipulate: a popular gambit over the years is for one of the nominees to play hard-to-get, declining to schedule any screenings outside of the Academy. Since the eligible voters are essentially the ones who've viewed the least-seen nominee, this strategy is a way of reducing the field of voters to the ones who've gone out of their way to see your film.
Will it help, say, "Dogtooth" this year? Don't count on it – particularly since the Academy has expanded the number of Foreign-Language screenings to five per film, making it easier for prospective voters to catch up with everything. Plus, for voters who need to be nudged, ads for "Biutiful" this week also list the official Academy screenings of all the other nominees.
With those ads, Roadside is acknowledging the bottom line in the off-the-ballot categories: Academy voters who want to cast their votes for "Biutiful," or for "Waste Land" or "In a Better World" or "Restrepo" or "Incendies" or any of the others, will need to do some homework.
Given the quality of the nominees in both of those key categories, I can only hope that lots of them will do just that.