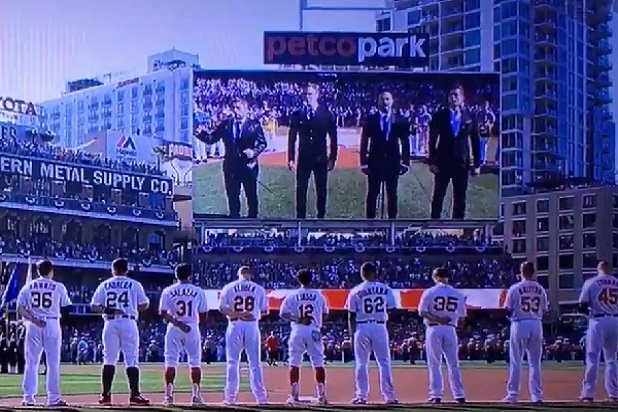 O Canada, you have a controversy on your hands.
A performance of the Canadian national anthem at the MLB All-Star Game on Tuesday by The Tenors stirred outrage on social media, thanks to altered lyrics that contained the phrase "all lives matter."
According to CBC, the quartet changed the lyrics to, "We're all brothers and sisters. All lives matter to the great."
Also Read: TV's Judge Hatchett Vows Justice for Philando Castile's Family
The phrase "all lives matter" is regarded by many as a response to the Black Lives Matter movement, which has gained widespread attention due to a number of high-profile shootings.
The change of lyrics didn't sit well with many on social media.
"Changing lyrics to O Canada is disrespectful and ignorant. @TenorsMusic I'm American and ashamed of you," one detractor wrote.
Also Read: Rudy Giuliani: 'When You Say Black Lives Matter, That's Inherently Racist'
Another accused the group of spreading "racist propaganda before a baseball game."
Still another opined, "Changing the lyrics of O Canada to support 'All Lives Matter' is an incredibly efficient and effective way to piss off literally everyone."
"Memo to MLB: if you're looking to attract black fans and players, All Lives Mattering the anthem — even O Canada — ain't the way to do it," said another critic.
Also Read: Is This War? When #BlackLivesMatter Veers Into Violence
Read below for a choice collection of reactions.
Changing lyrics to O Canada is disrespectful and ignorant. @TenorsMusic I'm American and ashamed of you.

– Kim (@liberalcoffee) July 13, 2016
Changing the lyrics of O Canada to support "All Lives Matter" is an incredibly efficient and effective way to piss off literally everyone

– Greg Balloch (@GregBalloch) July 13, 2016
Memo to MLB: if you're looking to attract black fans and players, All Lives Mattering the anthem — even O Canada — ain't the way to do it.

– Morgan Campbell (@MorganPCampbell) July 13, 2016
Anyone else catch that rendition of O Canada before the 2016 #MLBAllStarGame ? pic.twitter.com/RyrHfs1yhN

– Tyler Bitton (@TBitton8) July 13, 2016
Hey @TenorsMusic – WTF was that? You want to make a political statement – Don't do it by altering O'Canada. #AllStarGame

– Top Lawyers Canada (@TopLawyersCDN) July 13, 2016
I'm an American & I'm pissed by what the Tenors did to O, Canada. Anthem lyrics don't change…ever. #AllStarGame

– Sharon Ross (@Bink5of5) July 13, 2016