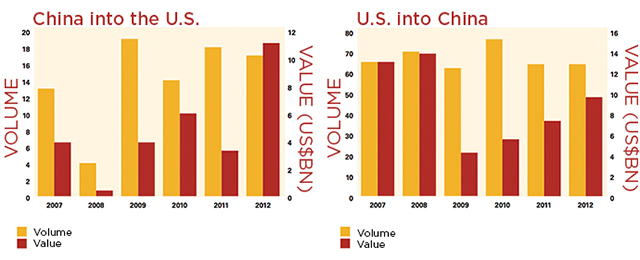 Chinese companies will look to acquire major U.S. media and technology companies in the coming years while the United States will resign itself to smaller deals and joint ventures, according to a new study released on Tuesday by law firm Manatt, Phelps and Phillips.
Entertainment and media deal making between the two countries has accelerated in recent years, with more than $20 billion in acquisitions in 2012. That is a sharp uptick after the volume of deals dropped during the worst of the worldwide financial crisis.
The study is based on the viewpoints of 100 executives from the United States and China, as collected by Mergermarket.
"We are seeing an increase in the value of cross-border investments in entertainment and media year after year," Lindsay Conner, co-chair of Manatt's entertainment division, told TheWrap. "Americans are most interested in access to Chinese markets. Getting a foothold in that market is critical."
Yet based on the executives polled, American companies will settle for acquiring "family-owned and small business," while Chinese companies are looking to fully acquire much larger companies to "meet consumer growth."
The growth of the Chinese market is part of the reason for this discrepancy, but Chinese regulations play a larger role, Conner said. Many of China's largest companies are owned by the state and the Chinese government also places strict limits on foreign investment.
The most prominent recent example of a big Chinese entertainment deal is Dalian Wanda's $2.6 billion acquisition of AMC Theaters, the second-largest theater chain in the United States. Executives on both sides said that movie theaters remained the most popular target for acquisitions and investment given the explosion of the Chinese film market.
Also read: Insider: China Censors Rejected Brad Pitt's 'World War Z' (Exclusive)
"China is a vast market that has, by comparison, incredibly few movie theaters," Conner said.
Companies on both sides of the Pacific also share the same obstacles to making deals — the intransigence of their respective governments and information.
A majority of respondents expected relations between the two countries to either stay the same or improve, but the Chinese were less optimistic. Of those that felt the relations would change, more felt it would get worse than get better. (see right)
U.S. investors want more information and Chinese want less. The Americans find it difficult to conduct the proper due diligence before completing a deal while Chinese investors bristle against American requirements of information disclosure.
That being said, executives still expect a flood of new deals in the coming years.
"America has Wall Street and China has the Great Wall, but the walls on both sides are starting to crack," Conner said.