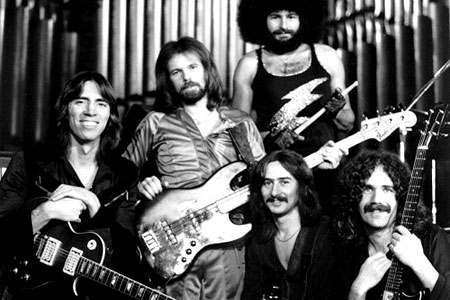 Tom Scholz, co-founder of the 1970s-era rock band Boston, has filed a libel suit against the Boston Herald over the stories that placed the blame of lead singer Brad Delp's suicide on Scholz.
In the lawsuit — filed last week in Massachusetts Superior Court — Scholz claims the paper and two of its columnists (Laura Raposa and Gayle Fee) published "malicious," "false" and "defamatory" reports in March 2007 that said Delp's wife blamed his suicide on Scholz. (The March 16 headline: "Pal's snub made Delp do it: Boston rocker's ex-wife speaks.") The suit claims the paper attributed "at least two substantively false statements" in the articles to Delp's wife, Micki, which she has since "stated, under oath, she did not say."
Scholz (far left in band photo) also argues that the paper falsely reported that his dropping of one of Delp's friends from Boston's 1997 summer tour was a contributing factor in Delp's suicide. The body of Delp (above, far right) was discovered in the bathroom of his New Hampshire home in March 2007, about a week before the stories were published.
The lawsuit then plunges a bit deeper than your typical libel case – with lawyers for Scholz claiming the reporters had "a motive to fabricate and sensationalize." That motive was relationship Fee and Raposa had with former members of Boston "with a known axe to grind" against Scholz "and at least one public relations specialist acting on their behalf." (The suit cites an August 2006 article in Boston magazine — entitled "Gals Gone Wild" — which details "unprofessional, irresponsible and reckless tactics and methods employed by Ms. Raposa and Ms. Fee as so-called 'reporters.'"
Scholz claims the reporters "consciously chose to join in a pre-conceived plan to sensationalize a damaging story" in order to "both sell newspapers and assist friends in settling old scores." Scholz, the lawsuit claims, was portrayed as "an insensitive, heartless and oppressive person."
Scholz is seeking unspecified damages for defamation and emotional distress.
Libel suits are tough to win, but Scholz may more than a feelin', er, fighting chance of winning. According to Boston.com, Scholz's lawyer – Howard Cooper – won a $2 million libel suit against the Herald in 2005.