"You're going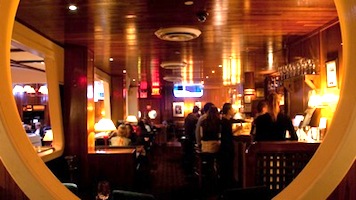 to see more faces you know at Michaels," says Dan Abrams, NBC News' chief legal analyst and the web entrepreneur behind Mediaite. "But at Lure, you are going to see the people you'll have to know five years from now."
Indeed, having hooked a daily lunchtime patronage of the city's Who's Who of digital media and technology, the trendy seafood restaurant — nestled literally underground in the basement of Prada Soho — is beginning to draw comparisons with that longtime midtown fixture of media muckety-mucks.
But without the fishbowl-see-and-be-seen feel and the notorious pecking order that could leave some Michael's customers, as former Daily Candy editor Pavia Rosati (pictured below right, at left) put it, "feeling like you're being escorted to Siberia."
At just six years old, Lure is, like its clientele, a relative startup. Still it's become the lunchtime hang for the entrepreneurial twenty- and-thirtysomething wunderkinds behind young, but growing, media success stories such as Thrillist, Nerve.com, Babble.com, Tumblr, Gawker, CollegeHumor and Take-Two Interactive.
Abrams (below, left) pops in often. So does his cousin, Josh Deutsch, founder and CEO of Downtown Records. Expect to bump into Desiree Gruber, an executive producer of "Project Runway" and wife of actor Kyle MacLachlan. Tumblr founder David Karp, of course. There, in a banquet near the back, is media investor Strauss Zelnick, usually with an exec from Take Two Interactive, a big hit in the Zelnick Media portfolio.
Lure's subterranean downtown flavor is also drawing a growing list of media veterans. Among them: Bloomberg founder and erstwhile New York mayor Michael Bloomberg; bicoastal CAA founder Michael Ovitz and Hearst Entertainment boss Scott Sassa.
The schools of entrepreneurs have become bait for venture capitalists who are regularly onboard Lure now — for example Mo Koyfman, who runs the New York office of Boston-based Spark Capital. The room often is abuzz over the latest blog by Fred Wilson, co-founder of Union Square Ventures and a major player in New York startups.
"I'm always curious about what Ken Lerer is up to," says a publicity-shy patron who often spies the one-time AOL executive, Huffington Post co-founder and general partner of Lerer Media Ventures seated nearby.
Lerer's son Ben, founder of Thrillist and Lure proselytizer, says he hired his chief revenue officer there. An executive recently hired from Old Media Time Inc. as CEO of CollegeHumor.com was told, "You are going to have to go to Lure to get initiated," says Rick Van Veen, co-founder of the humor site owned by Barry Diller's IAC.
And forget about the rather prosaic half-hour brown-bag break so associated with start-ups. Now, during media's noon-to-3 o'clock block, power lunch meets tribal ritual, with a menu featuring near-real time gossip, succulent victuals and an exceedingly engaging proprietor.
If there's a pecking order, it's well disguised—"an appealing egalitarianism," as Curbed.com founder Lockhart Steele describes the vibe. Lure makes "everyone happy," says Rosati, the former Daily Candy editor.
It's a cool-looking space, too, with tables and banquet anchored in a teak-walled motif that invokes the interior of European private yachts from the '40s, '50s and '60s.
And well-placed. At Mercer and Prince, it's plopped at the heart of fertile corridor of digital media and tech startups south of Houston Street.
"I looked around the room two years ago, and there were all the major players in this young media space," John McDonald (pictured right), Lure's lead owner, told TheWrap. "And now I'm seeing a switch where even the midtown media executives all have to come downtown now."
Lure clearly reflects McDonald. The 42-year-old is a member of a gallery of downtown tastemakers who are profile staples for New York's style writers. Recently, the New York Times chronicled his rise as an arbiter of hip, a pursuit that began through shoulder-rubbing in the 1980s with cultural, fashion and nightlife influencers who were friends of his sister, a Ford model at the time.
In addition to Lure, his scene-making empire
includes celebrity-packed MercBar, stylish City magazine and Burger & Barrel — all within yards of each other on Mercer, where the Times notes he also lives in a loft appointed with furnishings by Paul Frankle and Mies van der Rohe. "Lure is what I wanted in my neighborhood," McDonald says.
"I think John's rapport and demeanor struck a nerve with other entrepreneurs," says Lockhart Steele, a Gawker refugee who founded of a string of scalable and buzz-worthy sites, including Curbed Network (real estate), Eater.com (foodie) and Racked.com (shopping).
The restaurant is part of the rhythm of the area's digital media denizens. "Lunch at 1 o'clock—see you at Lure" is almost a refrain, says Downtown Records' Deutsch, adding, "it's great to be in John's orbit."
For Gruber of "Project Runway," Lure's appeal is simple. "Gossip hot off the line, a good lunch and Prada—how can you resist?" she asks.