The Motion Picture Association of America and major internet companies on Wednesday rebooted their long-running fight over content providers' role in protecting against piracy and counterfeiting, but this time in a new forum — the U.S. Patent and Trademark Office.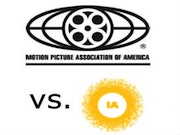 The federal agency is exploring how it should judge the effectiveness of voluntary initiatives — and asked for comments about the processes and methodologies it should use. The two sides previously offered opposite views in reacting to a July report from the White House's U.S. Intellectual Property Coordinator over similar issues.
The MPAA said the agency should judge companies' protection success based on how aggressively they act, and questioned whether the voluntary "best practices" steps taken so far by Internet companies is enough.
Also read: MPAA Sounds Piracy Alert for Kim Dotcom's New File-Sharing Site
The Internet Association, whose members include Google, Amazon, AOL, eBay, Facebook and Yahoo, meanwhile, urged a start-from-scratch approach for the Patent and Trademark Office — saying instead of examining existing "best practices," it should take a broader look at causes of piracy and infringement.
"The Internet Association recommends the [Patent Office] set aside its inquiry of industry's voluntary initiatives to reduce online infringement for a broader review that looks beyond data and metrics of enforcement mechanisms," the association said.
In its letter to the Patent Office, the MPAA acknowledged that voluntary efforts have been helpful — but are "not a panacea."
Also read: Chris Dodd: MPAA Backing Away From New Piracy Legislation
The association also offered a different measure of success: Instead of the number of pirated clips that are removed, it should focus on whether consumers have less access to pirated content than before.
"Taking a holistic approach will reveal that today's copyright landscape involves important industry practices, marketplace realities, and consumer behavioral dynamics that all play a role in both the source of and potential solutions to online infringement."