MSNBC is set to launch a new comprehensive brand campaign that alludes to the channel's left-leaning identity.
The network's new "comprehensive branding initiative" is built around the slogan "Lean Forward." It will include print and online ads as well as a series of TV commercials directed by Oscar-winner Spike Lee.
Technically, MSNBC's ads don't overtly identify the channel's liberal slant, but the TV commercials include several subtle signals that the network is firmly in Blue State territory. Lee's "Lean Forward" spots include clips of JFK and gay weddings. The ads are also filled with imagery and quotes that celebrate immigration and diversity.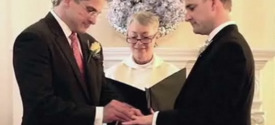 The "Lean Forward" campaign is a continuation of MSNBC's attempts to distinguish itself from the conservative politics of its competitor, Fox News. Both Fox News and MSNBC have experienced success against their main cable rival, CNN, with programming that has an easily identifiable political perspective.
MSNBC president Phil Griffin announced the new branding campaign Tuesday morning.
"'Lean Forward' captures the spirit of everything we do and everything we believe. It's about celebrating the best ideas, no matter where they come from; that tomorrow can, in fact, be better than today. 'Lean Forward' is our message," Griffin said.
In the announcement Sharon Otterman, chief marketing officer and vice president of MSNBC, discussed the strategy behind the "Lean Forward" ads.
"We're not just creating advertisements. We are building a stronger consumer brand that differentiates us from the competition and prepares us for future growth," Otterman said.
This campaign is MSNBC's first comprehensive branding initiative since the network launched in 1996. It is the largest ad campaign in MSNBC history.
MSNBC will launch the "Lean Forward" campaign Oct. 11. In the meantime, you can watch two of Lee's ads below.

Visit msnbc.com for breaking news, world news, and news about the economy
Visit msnbc.com for breaking news, world news, and news about the economy