The lengthy timetable for this weeks Comic-Con in San Diego doesn't help the logistical nightmare ("Bates Motel" type imaginings) that attending panels in Ballroom 20 or Hall H (Hmm, 'H' for hell-of-a-lot of people?) entails.
The absence of "Twilight" die-hards doesn't mean there won't be long lines outside Hall H. With the rise of the Young Adult book genre-based films, you can bet more than a few of the 130,000 expected attendees are the YA book-to-film fan base that will be camping outside the main hall for the annual fest, which starts Thursday.
So what's a nerd in full "Wolverine" beard and steel claws to do?
First, keep calm.
Second, adopt a Disney(line)land mentality. Remember the pre-Fast Pass days when you resigned to be happy if you got on four or five rides and you wouldn't feel ripped off? The same mentality applies at Comic-Con.
You'll have to choose to get in line for Hall H early and, once inside, stick it out in there the whole day. Forget about getting in to see a few panels, leaving to crash another presentation upstairs and then coming back to H to catch a few more later in the day. The same goes for Ballroom 20 and the Indigo Ballroom at the Hilton Bayfront Hotel next door. You're either all in or you are out!
Having a backup plan will ease the sting of having the line into your chosen panel cut off in front of you. Attending some of the smaller TV shows or artist panels can be rewarding, too. DC Comics' Jim Lee is a pretty good panel if you ask me.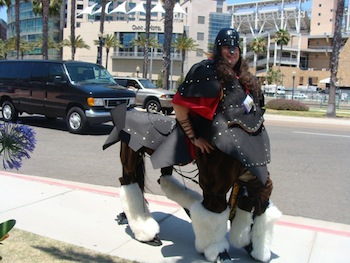 Whether you use paper grids, digital calendars, or Comic-Con's My Schedule online system, there are some practical aspects earth dwellers have to tend to before getting to the Con. If you have your barcode confirmation sheet and already perused the extensive program details for the four-day geek-arama, then what follows should be much easier to do.
1. If you're traveling to Comic-Con by train from L.A. make sure you have your seats reserved on Amtrak. Comic-Con and the start of Del Mar Racing season, also July 17, collided to form the perfect transportation storm down Interstate 5 — traffic will be heavy. The train has gained popularity for alleviating the bad parking situation downtown San Diego during the convention, so Amtrak advises that reservations for these dates are a must!
2. Get to the Convention Center early to register and pick up your badge. FYI for terrestrials: Everyone, and I do mean everyone, has to show up and exchange their paper ticket confirmation for a lanyard and badge. Make sure you have an ID with you, too! And don't forget to collect your program, souvenir book and humongous swag bag here!
3. Bring snacks and water to avoid "The Hunger Games." The Con is not known for its gourmet food or ample water fountains. You can also seek a safe "Haven" walking out of the SDCC to one of the many nearby eateries. The Hilton San Diego Bayfront and the Marriott Marquis and Marina are next door to the convention center and are usually less crowded, have a Starbucks and full-service restaurants. Other restaurants within walking distance to the convention center are: Lolitas by PETCO on Park Avenue., Broken Yolk on Sixth, Basic Pizza on 10th and the Tilted Kilt on 10th by PETCO Park.
4. Charge up your "Mortal Instruments," err, devices. And don't forget your charger in case you need to plug in. (Good luck finding an outlet, though.) Power is a huge problem for everyone. Taking photos or video of the amazing costumes (or lack thereof) people create plays the "Ender's Game" with your portable power sources.
5. About hoarding the swag at Comic-Con. One word of advice: civility. Leave the brutish behavior to the "Vikings." Do NOT push, shove, punch, or step on anyone/thing just to get a poster or plastic giveaway item. However, if say, someone in a Spider-Man costume is suspected of being Andrew Garfield walking around the convention floor like he did at SDCC 2011, you'd better get out my way!
Finally, avoid "Divergent" personalities by taking a break outside and away from the craziness inside Comic-Con. It takes a super-human effort to navigate the Con, so consider these simple tips before jumping into your super suit and heading to San Diego.
After all, being at the world's largest gathering of costumed humanity can get the better of even the gentlest geek.