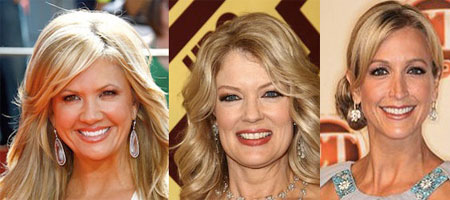 EXCLUSIVE
Nancy O'Dell was a surprise replacement for Mary Hart after bad blood ruined a deal for "The Insider" host Lara Spencer to take over "Entertainment Tonight," TheWrap has learned.
As TheWrap reported exclusively in August, the 41-year-old Spencer was part of a transition plan that had been in place months before Hart announced her 2011 retirement.
But that deal soured as "personal" tensions rose between Spencer and Hart — who just turned 60 on Monday — an individual close to the situation told TheWrap.
The upshot: O'Dell, the 44-year-old former "Access Hollywood" host, will fill the role that Hart has occupied for three decades, as People first reported on Monday.
"This came as a surprise," the individual told TheWrap. "It was a done deal that Lara would be Mary's replacement but recently there's been bad blood between the two camps."
An email sent to Spencer's rep was not immediately returned Monday night. Hart's rep, David Brokaw, denied any tension between Hart and Spencer.
"There was no bad blood between the two of them," he said. "When you have that kind of a wonderful tenure there… you can only leave with good feelings."
But a second person with behind-the-scenes knowledge of "Entertainment Tonight" and "The Insider" told TheWrap that Spencer cost herself the job at "ET."
"Lara made a lot of bad mistakes and opened the door for Nancy," the individual said. "She contractually had the job and lost it."
Worth noting is that "Entertainment Tonight" and Spencer's show "The Insider" share the same executive producer in Linda Bell Blue, and both shows are produced by CBS Television Distribution.