House Minority Leader Nancy Pelosi was more than confident that Hillary Clinton will win this election when she spoke onstage at TheWrap's Power Women Breakfast Friday in Beverly Hills.
"In three weeks we will be electing, in a very strong way, the first woman president of the United States. No question about it," she said to thunderous applause from a ballroom full of leading woman executives from media, entertainment and advertising. "She will be leader of the free world as president of the United States. When Hillary Clinton goes into the Oval Office she will be one of the best-prepared people in history."
The former Speaker of the House of Representatives was dismissive of Republican nominee and Clinton's challenger, Donald Trump: "Let's not waste our time. We can move on from that because he'll be gone in two weeks."
Also Read: Leader Nancy Pelosi, Olympian Allyson Felix, Journalist Diane Rehm Headline TheWrap's Power Women Breakfast
Joining Pelosi onstage Friday were other powerful and inspirational women who spoke of their personal journeys.
Olympic gold medalist Allyson Felix discussed the Olympics in Rio, saying that Ryan Lochte's fake-robbery scandal took away from all "these positive things that are happening."
"Unfortunately, it's nothing new — being a woman in athletics always striving for equality with your male counterparts, sometimes it's frustrating that something away from performance gets all this attention when on the track the women dominated," she said.
Diane Rehm, who since 1979 has hosted "The Diane Rehm Show," which airs on WAMU 88.5 FM in Washington, D.C., appeared on a panel with Janine di Giovanni, Middle East editor of Newsweek and contributing editor of Vanity Fair; Mabel Cáceres, editor-in-chief of El Búho Magazine, Peru; and Stella Paul, a freelance journalist based in India. All four women were recipients of the 2016 IWMF Courage Award.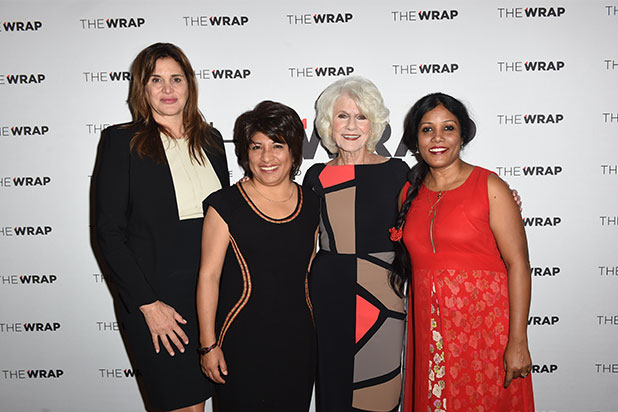 "These women have been in the midst of the battle, and I have been in the sanctity of my studio in Washington, and I feel totally humbled in their presence," Rehm said of her colleagues.
TheWrap's Power Women Breakfast series brings together women of remarkable achievement to connect and inspire the leading influential women of entertainment, media, technology and brands in the key cities where those women work, create, gather, network and connect.
The breakfast was hosted by TheWrap's CEO and Editor-in-Chief Sharon Waxman, who moderated each of the conversations.
During the conversation with Pelosi, the congresswoman also stressed that the country will be better for everyone when there are more women in politics.
Also Read: Jon Stewart Likens Congress to Bill Cosby: They Both Slip Toxic Things in While No One Is Looking (Video)
"There's nothing more wholesome for America than increased participation and leadership of women in government and in politics," she said. "I guarantee this, if we lower the role of money in politics, and increase level of civility, more women will step forward and that will be a great thing for our country and that's what we strive for. It's a pretty exiting time. Time is the most valuable commodity, it's finite. You have to use it, and on Wednesday, the day after the election, we have to be sure to use our time well."
Naturally, she was also full of advise for the younger members of the audience.
"Don't let anybody minimize what you have done," she said. "That authenticity is the most important — that's what people respond to, the sincerity of it all. Have confidence in what you care about, what you know, how you plan to proceed. Know your power, each and every individual one of you."
Also Read: Stephen Colbert Asks 'Nemesis' Nancy Pelosi If She Has Naked Pictures of John Boehner (Video)
From 2007 to 2011, Pelosi served as Speaker of the House, the first woman to do so in American history. As the Democratic leader, Pelosi says her focus is on fighting for bigger paychecks and better infrastructure for America's middle-class families.
For 29 years, Pelosi has represented San Francisco, California's 12th District, in Congress.  She has led House Democrats for more than 12 years and previously served as House Democratic Whip.
Also Read: Gary Oldman Is Mad He Can't Call Nancy Pelosi a 'C-nt' but Bill Maher Can - 9 Outrageous Quotes From Playboy
Among other speakers to share their personal stories at TheWrap's Power Women Breakfasts around the country in 2016 have been actress Lena Dunham, journalist Katie Couric, scientist Poppy Crum, Sen. Amy Klobuchar, actress Anika Noni Rose, journalist Maureen Dowd and many others.
The breakfasts in 2016 have convened in Washington D.C., San Francisco, New York and now Los Angeles.
Additional celebrity and industry attendees Friday included Anne-Marie Johnson (Actress/Activist; "NCIS: LA, Major Crimes"), Pamela Guest (Actress/Producer, "Cleopatra Backstage"), Elizabeth Guest (Actress/Producer, Guest Appearances), Chantel Jeffries (Actress/Model/Social Media Star), Kathryn Burns (Actress/Choreographer/Dancer), Christine Devine (Anchor, FOX 11 News), Laura Mayes (Co-Founder and CEO, Mom 2.0 Summit), Kori Adelson (Creative Executive of Film, Chernin Entertainment), Orly Adelson (President, Orly Adelson Productions), Catherine Hardwicke (Director, Twilight), Paula Wagner (Film Producer and Executive), Bonnie Eskenazi and Brenda Robinson (Entertainment Attorneys, Greenberg, Glusker, Fields, Claman & Machtinger LLP), Ruth Vitale (CEO, Creative Future), Bonnie Arnold (Co-President, Feature Animation, DreamWorks Animation SKG), Mireille Soria (Co-President, Feature Animation, DreamWorks Animation SKG), Marie Sheehy (EVP of Corporate Communications, Willam Morris Endeavor Entertainment,) Janet Janjigin (Executive Managing Direction, Carmen Group), Jill Wilson (SVP of Game Development, Jam City), Lisa Stone (Founder, BlogHer), Carla Hacken (President of Production, Sidney Kimmel Entertainment), Jessica Sanders (Director/Writer/Producer, Jessica Sanders Film), Heather Podesta (Founder & CEO, Heather Podesta + Partners, LLC), Dena Cook (CEO, Brew Media Relations), Donna Bojarsky (Foreign Policy Round Table) and many more.
Here are scenes from a recent Power Women's Breakfast. Please check back for photos and video of Friday's event.