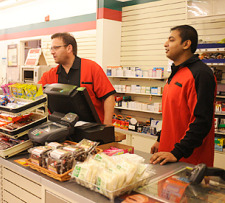 "Undercover Boss" will be going bananas, literally.
Produce company Chiquita Brands International will be one of the companies participating on the upcoming second season of the hit reality show, along with NASCAR, DirecTV and Great Wolf Resorts.
"Boss" features the honchos of various companies disguising themselves a regular employees. CBS announced the partial new lineup at its annual TCA summer press tour presentation at the Beverly Hilton Wednesday.
Other companies will be included, but will be named at a later date.
The first season of "Undercover Boss's" participants included 1-800 Flowers, Hooters and 7-Eleven. A hit with critics and viewers, it was nominated for an Outstanding Reality Series Emmy.
At the TCA's, CBS President Nina Tassler said the "Undercover Boss" team was able to surprise its subjects in spite of the high profile of the show. "I'm certainly not going to reveal any changes, because then it's not undercover anymore, but … they have a procedure, they have a process in place," Tassler said.
Previously: "Battle of the Ages on 'Survivor'"