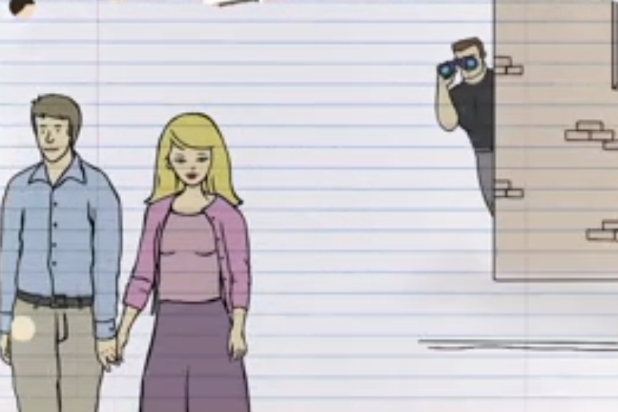 Anonymously date away, pretty ladies with daddy issues: Nathan Fielder and his creepy, obviously fake private investigation service have got your backs.
Last week on "Nathan For You," Comedy Central viewers were treated to the highly anticipated behind-the-scenes look at spoof/coffee house/art project Dumb Starbucks. On the next episode — airing Tuesday — Nathan helps a dating website attract female users, a party planner is given a new way to send out invites, and Fielder shares his strategy for self-motivation.
Below is an exclusive clip looking at Fielder's pitch to help women feel more comfortable with online dating.
Also read: How 'Silicon Valley' and Nerdist Stars Brought Their Stand-Up Show From a Comic Shop to Comedy Central
In the video, the Canadian deadpan specialist attempts to help the CEO of website Dating DNA, Kevin Carmony, attract more women clients.
Fielder's pitch? A client service called "Daddy's Watching," which essentially sends out one creep to shadow another as a women goes on her first date with an online suitor. The comedian had the founder of the social media dating service choosing his words — which included "condescending" — very carefully.
"Dating Website/ Party Planner" airs Tuesday, Aug. 5 at 10:30 p.m. on Comedy Central.
Watch the clip below: