Kathryn Bigelow's "Zero Dark Thirty" has been named the best film of 2012 by the National Board of Review, adding a second award to go with the New York Film Critics Circle honor the gripping hunt-for-bin-Laden drama received on Monday.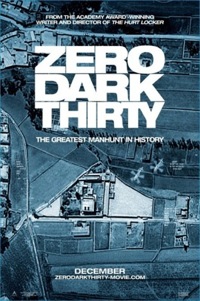 The win gives the film a significant early shot of momentum in the awards race. Three years ago, Bigelow's "The Hurt Locker" won the Oscar for Best Picture on the heels of a near-sweep through the critics' awards.
Also read: 'Zero Dark Thirty' Captures New York Critics Awards
Bigelow was also named Best Director for "ZD30," while the film's star, Jessica Chastain, was named Best Actress.
Bradley Cooper of "Silver Linings Playbook" was a surprise choice for Best Actor over Daniel Day-Lewis from "Lincoln."
The supporting awards went to Leonardo DiCaprio for "Django Unchained" and Ann Dowd for "Compliance."
The top 10 films included a couple of suprises, including "The Perks of Being a Wallflower" and "Looper" in place of presumed locks "Life of Pi" and "The Master."
Those two films were shut out entirely. Steven Spielberg's "Lincoln" was named to the list of the year's 10 best films, but it did not win any other awards, with Day-Lewis and supporting actress contender Sally Field losing to Cooper and Dowd and screenwriter Tony Kusher losing in the adapted screenplay category to David O. Russell for "Silver Linings Playbook."
Michael Haneke's "Amour" was named best foreign film, while "Wreck-It Ralph" was chosen best animated film over its higher-profile competitors "Brave" and "Rise of the Guardians."
"Searching for Sugar Man," the closest thing to a consensus favorite in a crowded year for documentaries, was named best doc.
The victory was not necessarily good news for the chances that "Zero Dark Thirty" will be named Best Picture at the 85th Academy Awards: In the last decade, the NBR and the Academy have only agreed twice, on "Slumdog Millionaire" in 2008 and "No Country for Old Men" in 2007.

Martin Scorsese's "Hugo" won the NBR's award last year. Other recent winners include "The Social Network," "Up in the Air," "Letters from Iwo Jima," "Finding Neverland" and "Good Night, and Good Luck."

The National Board of Review is not made up of critics, but of "a select group of knowledgeable film enthusiasts and professionals, academics, young filmmakers and students" in the New York area. It owes its high profile in the awards picture to the fact that it has been picking the year's best films since 1930, and that it had typically been the first body to announce its awards until the New York Film Critics Circle moved up its announcement a couple of years ago.

The NBR will hold its awards gala in New York City on Jan. 8, 2013.
Best Film: ZERO DARK THIRTY
Best Director: Kathryn Bigelow, ZERO DARK THIRTY
Best Actor: Bradley Cooper, SILVER LININGS PLAYBOOK
Best Actress: Jessica Chastain, ZERO DARK THIRTY
Best Supporting Actor: Leonardo DiCaprio, DJANGO UNCHAINED
Best Supporting Actress: Ann Dowd, COMPLIANCE
Best Original Screenplay: Rian Johnson, LOOPER
Best Adapted Screenplay: David O Russell, SILVER LININGS PLAYBOOK
Best Animated Feature: WRECK-IT RALPH
Special Achievement in Filmmaking: Ben Affleck, ARGO
Breakthrough Actor: Tom Holland, THE IMPOSSIBLE
Breakthrough Actress: Quvenzhané Wallis, BEASTS OF THE SOUTHERN WILD
Best Directorial Debut: Benh Zeitlin, BEASTS OF THE SOUTHERN WILD
Best Foreign Language Film: AMOUR
Best Documentary: SEARCHING FOR SUGARMAN
William K Everson Film History Award: 50 YEARS OF BOND FILMS
Best Ensemble: LES MISÉRABLES
Spotlight Award: John Goodman (ARGO, FLIGHT, PARANORMAN, TROUBLE WITH THE CURVE)
NBR Freedom of Expression Award: CENTRAL PARK FIVE
NBR Freedom of Expression Award: PROMISED LAND


Top Films
(in alphabetical order)

ARGO
BEASTS OF THE SOUTHERN WILD
DJANGO UNCHAINED
LES MISÉRABLES
LINCOLN
LOOPER
THE PERKS OF BEING A WALLFLOWER
PROMISED LAND
SILVER LININGS PLAYBOOK

Top 5 Foreign Language Films
(In Alphabetical Order)

BARBARA
THE INTOUCHABLES
THE KID WITH A BIKE
NO
WAR WITCH

Top 5 Documentaries
(In Alphabetical Order)

AI WEIWEI: NEVER SORRY
DETROPIA
THE GATEKEEPERS
THE INVISIBLE WAR
ONLY THE YOUNG

Top 10 Independent Films
(In Alphabetical Order)

ARBITRAGE
BERNIE
COMPLIANCE
END OF WATCH
HELLO I MUST BE GOING
LITTLE BIRDS
MOONRISE KINGDOM
ON THE ROAD
QUARTET
SLEEPWALK WITH ME