NBC has begun cleaning house as it prepares to add new series to its fall schedule.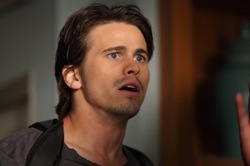 The network has canceled the science-fiction thriller "The Event," a source with knowledge of the production confirms to TheWrap. Additionally, "Outsourced" has been given the axe, as has been expected.
The cancellations aren't terribly surprising (particularly not to the readers who caught our early prediction of the shows' demises). "The Event," which premiered in September 2010, has been struggling in the ratings of late, and matched its series low on Monday, sliding 15 percent from the previous week with a 1.1 rating/3 share in the adults 18-49 demographic.
Meanwhile, NBC is moving forward full-bore with new programming; the network picked up the pilots "Awake," "The Playboy Club" and "Grimm" on Thursday.
NBC offered no comment when contacted about the cancellation.