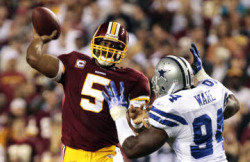 Sunday night's NFL season opener between the Dallas Cowboys and Washington Redskins was NBC's most-watched "Sunday Night Football" telecast ever.
The game was watched by an average of 25.3 million viewers from 8:31-11:40 p.m., up 20 percent from last year's opening "Sunday Night Football" game. Since 1997, the only NFL broadcast that scored higher ratings than Sunday's game was the NFL Kickoff game between the Vikings and Saints on Sept. 9, which drew 27.5 million viewers.
The Redskins won the game with a score of 13-7.