Media job change worth noting: Mark Whitaker — the former editor of Newsweek and the late Tim Russert's successor as Washington bureau chief for NBC News — is jumping to CNN.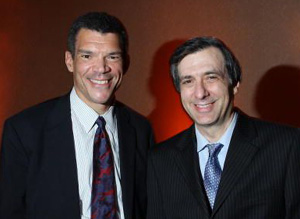 Whitaker, who joined NBC in 2007 after eight years at Newsweek and the Washington Post Company, will be executive vice president and managing editor of CNN Worldwide, a newly-created position. (Whitaker is pictured left with Howard Kurtz.)
He'll oversee "editorial coverage across CNN's multiple platforms and influence the overall approach, tone and direction of CNN's reporting."
More from the release:
As managing editor, Whitaker will be responsible for overseeing and integrating news and editorial content across all of CNN's domestic and international networks and digital platforms, and charting long-term editorial strategy for the organization. Drawing upon CNN's global newsgathering infrastructure, he will be tasked with leveraging the best of CNN Worldwide's reporting to create a more powerful and distinctive dialogue about the top news stories of the day.
"Our aim is to position a strong managing editor, working closely with the head of each CNN network and Web site, to generate reporting and analysis that consistently stands out, sparks conversation and captures the true meaning and relevance of the events in the news," said [CNN Worldwide president Jim] Walton. "Mark is a distinguished journalist and news executive who is experienced in leading large enterprises, and I am pleased that he will help direct our long-term editorial approach and strategy."
Whitaker, who will be based in New York, starts on Valentine's Day.