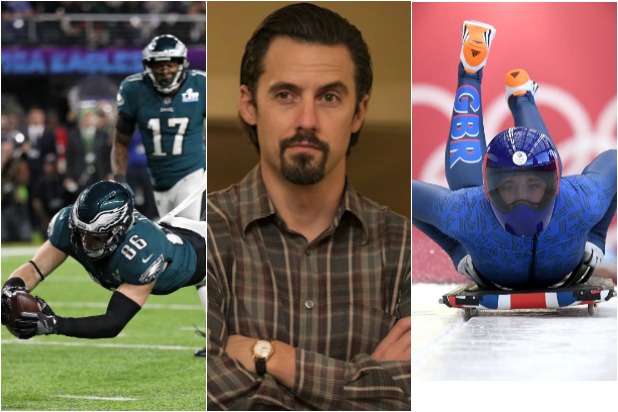 NBC is living its best life right now. The network just took the lead in total primetime viewers for the 2017-2018 season, with an average of 9.56 million through 20 weeks, according to the most current Nielsen numbers. Of course, that's all thanks to Super Bowl LII, that fiery post-game episode of "This Is Us" and the 2018 Winter Olympics.
This is quite the achievement for the Peacock, which has not hit No. 1 in the Big Four's competition for total viewers since the 2001-2002 campaign. NBC has pulled ahead of CBS' average of 9.38 million and is up 7 percent in total viewers compared to this same time in the 2016-17 season.
The showdown between the Philadelphia Eagles and New England Patriots earlier this month was the kickoff for NBC's serious boost and the opening of the Pyeongchang Games last week stuck the landing for the network.
Also Read: Ratings: NBC's Olympics (Figure) Skates Circles Around 'Celebrity Big Brother,' 'Shark Tank'
But it's not just big events that are giving NBC a lead. For reference, the network came in second in total viewers the last time it held a Super Bowl and Olympics in the same season (the 2011-12 broadcast year). And if we're excluding all sports programming, the Peacock is trailing closer on CBS' heels than it has since 2002-03. NBC has the Pearson family to thank for that.
"This Is Us" is currently broadcast TV's No. 1 drama, with its second season up 23 percent in total viewers over the same point in its freshman year. The post-Super Bowl episode added a lot to those numbers (27 million viewers), but excluding the special-time slot boost, the show is still up 13 percent in total viewers (16.4 million) over the same point in Season 1. The family drama is also up 11 percent in the advertiser-coveted 18-49 demographic (5.0 rating/18 share), according to seven days of delayed viewing data from Nielsen.
"On behalf of myself and Mark Lazarus, chairman of NBC Broadcasting and Sports, we are enormously proud of everyone at NBC for achieving the milestone of becoming America's most-watched network for the first time in 16 years," NBC Entertainment chairman Bob Greenblatt said. "Only five years ago we were still fourth place in total viewers after having regained the 18-49 demo crown in 2014, a level we've maintained for the past four full seasons."
Also Read: 'This Is Us' Hits 27 Million Viewers Right in the Feels With Post-Super Bowl Tearjerker
"This is an achievement that reflects NBC's strength as a true broadcaster, delivering mega-events like Sunday Night Football, the Super Bowl and Olympics, along with the some of the highest-rated scripted and unscripted programming on television such as 'This Is Us,' 'Will & Grace,' 'The Voice,' 'America's Got Talent,' and the list goes on and on," Greenblatt added. "We are incredibly proud of our owned and affiliated stations as well as our studio, programming, scheduling, sales, marketing, publicity, affiliate-relations and operations teams, all of which are second to none in this industry."
Check out the Big Four's current rankings in Nielsen numbers below.
Total Viewers
NBC: 9.569 million
CBS: 9.385 million
ABC: 5.911 million
Fox: 5.892 million
Adult 18-49 Rating
NBC: 2.47
Fox: 1.77
CBS: 1.66
ABC: 1.45