Can't get enough "Parks and Recreation" now that Rob Lowe and Adam Scott are on it? NBC.com can help.
The network's website is hosting special "producers' cut" versions, with extra footage, of episode "The Master Plan" (available now) and season finale "Freddy Spaghetti" (available Friday, May 21).
The special version of "The Master Plan" features eight additional minutes of footage including deleted scenes, extra footage with Lowe and Scott, and extended endings of the broadcast version. "Freddy Spaghetti" contains four extra minutes of footage plus additional footage with Lowe, Scott and the rest of the cast.
* * *
Queen Latifah will host the 10th-anniversary edition of "The BET Awards," airing live on BET from the Shrine
Auditorium in Los Angeles on Sunday, June 27, at 8 p.m.
The actress-singer hosted January's People's Choice Awards (left).
The awards honor the industry's hottest stars in music, sports and entertainment. Performers will include Diddy-Dirty Money, Trey Songz, Nicki Minaj and Drake.
"Trey Songz: My Moment in Time," featuring the R&B star, premieres on BET at 10 p.m. on Tuesday, June 29, with a sneak peek airing after the "BET Awards."
Stephen Hill, president of music programming and specials for BET Networks, said in a statement that Queen Latifah's "versatility as a performer perfectly matches the dynamism of our show."
Jay-Z leads the nominees with five out of the BET Awards's 19 categories; he's up for Best Male Hip Hop Artist, Best Collaboration, Video of the Year (two nominations) and Viewer's Choice.
Quadruple nominees are Beyonce (Best Female R&B Artist, Best Collaboration, Video of the Year, Viewer's Choice), Alicia Keys (Best Female R&B Artist, Best Collaboration, Video of the Year, Viewer's Choice), Trey Songz (Best Male R&B Artist, Best Collaboration (two noms), Viewer's Choice) and Melanie Fiona (Best Female R&B Artist, Best New Artist, Video of the Year, Centric Award).
The show also will have a social media component focusing on digital exclusives and interactivity. A pre-show "106 & Park" performance will live only on digital platforms. Online features include "Shine a Light/Local Heroes," where the online audience can nominate someone who is making a difference in their community or the lives of others for an opportunity to be recognized in the BET Awards; "You Talk, We Listen," a daily poll on what viewers want to see on the 2010 "BET Awards" show; "Who Rocked the Mic Award," where viewers vote on the best performance from the show, with the award presented on June 28's "106 & Park" post-show; and "Ultimate Fan," where three contest finalists will travel to New York and appear on "106 & Park" to state their case for why they should be the BET Awards Ultimate Fan.
"BET Awards" also kicks off Music Matters, a multiplatform network initiative showcasing groundbreaking new music and talent.
Cossette Productions will produce the "BET Awards" telecast.
* * *
James Franco returns to ABC's "General Hospital" in the role of bad-boy performance artist Franco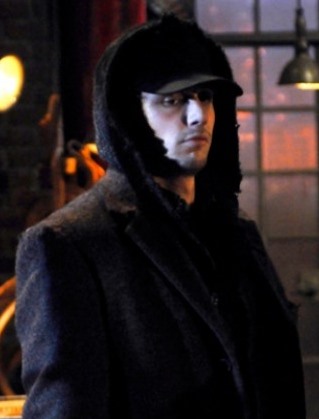 starting Wednesday, June 30.
His arrival kicks off the soap's summer storyline "as the wickedly brilliant Franco takes the citizens of Port Charles on a wild ride of mystery, music, murder and mayhem," ABC said. In a chilling climax, the viewing audience will be treated to performance art the likes of which they've never seen before.
"We are so thrilled to welcome James back to 'General Hospital,'" executive producer Jill Farren Phelps said in a statement. "We had such a great time with him and are very excited that he decided to return to Port Charles to take care of unfinished business."
"Working on 'General Hospital' was a great experience. I love the cast, writers, directors and producers. They have become a new family for me. I can't wait for the work we will do this summer," Franco said in a statement.
"GH" is nominated for 18 Daytime Emmy Awards.
* * *
MTV begins the countdown to the second season of "Jersey Shore" by repeating season one on Thursdays at 9 and 11 p.m. ET/PT.
The reality show will bookend new episodes of "The Dudesons in America" at 10 and "MTV's Ultimate Parkour Challenge" at 10:30.
In "Dudesons," four Finnish lunatics try to live out their American dream of doing stupid stunts and pranks. "Parkour" features eight parkour athletes from around the world flipping over barriers and vaulting over obstacles. (Click for video trailers.)
* * *
Spike TV has greenlit "Auction Heroes," an original unscripted series that follows a pair of enterprising friends seeking their fortune by purchasing storage containers at auction and reselling the contents at pawn shops.
"A century ago it was the gold rush or the search for pirates' buried treasure," Sharon Levy, Spike's executive VP of original series and animation, said in a statement. "In 2010, storage container auctions are the new frontier for uncovering riches. And the stars of 'Auction Heroes' will show the audience just how you can strike it rich by outsmarting the competition."
Spike ordered eight half-hour episodes of the show from producer Gurney Productions. Cast and airdate are to be announced.
Spike also announced one-hour special "Wild Animal Repo," featuring Scott Lope, Animal Planet's 2009 Hero of the Year. In the show, Lope rescues wild and endangered animals from unfit owners, illegal trade and harmful environments.
Jay Blumenfield and Tony Marsh of the Jay and Tony Show Productions are executive producers, along with Tom Forman. Date and time will be announced shortly.
Spike also said it's celebrating the 30th anniversary of "The Empire Strikes Back" with a "Star Wars" movie marathon on Saturday, May 22. "Empire" will be simulcast at 4 p.m. ET in Times Square on MTV's 44.5-foot-high video board.
Starting at 1 p.m. ET/PT, Spike presents the original "Star Wars," now called "Episode IV – A New Hope" (repeating at 10 p.m.) That's followed at 4 p.m. by "The Empire Strikes Back" (repeating at 1 a.m.) and at 7 by "Return of the Jedi."
Spike has been airing anniversary-themed trailers all week that incorporate footage from vintage TV spots and trailers, as well as two new image spots that highlight Stormtroopers in 1980-type situations including a disco and aerobics class. The spots can be viewed online.