Richard Engel, NBC's chief foreign correspondent, is launching his own monthly documentary series Wednesday when NBC moves "Rock Center with Brian Williams' to its new night.
But the show, titled "Hidden Planet," will not air on television, it will stream on the iPad (a product, by the way, which Engel does not own).
The series, exclusive to the "Rock Center" iPad app and the show's website, will explore remote but glorified locales, such as the tunnels beneath the Giza Pyramids and the Lost City of Timbuktu.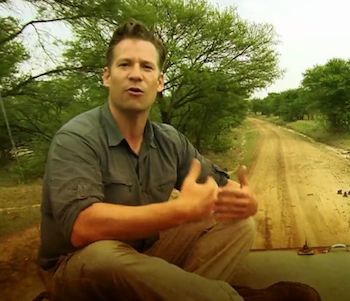 TheWrap spoke with Engel from Istanbul, where he was delayed during traveling on assignment. He talked about the new show, the tour bus from hell and his romantic side.
TheWrap: Let's start by filling everyone in on this new series.
Engel: The last 10 years I've been primarily doing war reporting because the last 10 years have been full of wars. This is a totally different thing. These are travel stories, adventure stories, and — not a word used as much anymore — romantic stories. Like the 18th-century, 19th-century romance, not the candlelit dinner and holding hands on the beach. This is why I got into journalism, not so I could watch people get shot.
Watch a preview of the series here:
How did it come about? Was it something you've been angling to do or did NBC approach you?
It was more organic. The "Today Show" wanted a series before the Arab Spring called "Secret Kingdoms." They aired a few, and the series was relatively short-lived, but I didn't want to stop, so I kept going.
A lot of times when I am on a story, we break off and do a side shoot. In middle of the war in Libya, we took half a day and snuck off to see these Roman and Carthaginian ruins with Greek ruins on the other side. You sneak off for half a day even just to clear your head. Crews like this; people like going to see the Parthenon or historic ruins.
And you mentioned a philosophical motive as well?
I do mostly short and now longer news reports. Somebody gets hurt, some dictator gets overthrown, something bad happens to somebody. Actually, I think the world is a beautiful, exciting, interesting place.
You don't need to be scared of the world around you. Yes, there are terrorists out there, there are bad things out there, but you can't see world as just a dangerous place within the realm of the other. The world is also exciting and wonderful and romantic and to be explored, appreciated and pondered about.
Now one of the other unique things about the show is that it will debut on the iPad rather than television.
I don't have an iPad. It's not that I'm an iPad-obsessed person. That was a decision from NBC. I'm more concerned about the content, where they put it, how they move it around. Most young people I speak to don't watch as much TV as the older generation so the idea of a digital format is great.
But it's not really my realm, and it's not something I think a lot about. I'm more interested in bow hunting with the click tribe; that's more exciting to me.
You have chosen to spotlight a bevy of lesser known landmarks and peoples. Is the story of the click tribe the one that stood out?
Yeah, in Tanzania we spent time with this tribe. They speak in clicks — one of the only people in a click language—and every tenth word or so is a sound. It was way off in the middle of nowhere; they live in small bands in a cave. They don't fish, they don't raise livestock, they do nothing.
Here are a people living a completely isolated lifestyle; they have almost no tools; they light fires with sticks; they have nothing more than clothes on their back. They don't have an organized hierarchy, don't have a President or a tribal leader.
And they are peaceful and happy — people so warm and friendly with no aggression in them.
That's a powerful story and one I can't imagine that gets told much. Do you get frustrated that international stories often get trumped by domestic stories, or even sports stories.
It wasn't the case last year. According to one survey, I was the most-used correspondent at NBC as a foreign correspondent — more than the White House correspondent.
These things ebb and flow. I watched it in Iraq. For the first two years in Iraq, from 2003 to the end of 2004, it was 24 hours a day. Jump ahead to 2007-2008, and nobody cared about Iraq.
I was watching MSNBC earlier today, and Chuck Todd lamented the lack of attention the situation in Syria is getting given the Super Bowl and the election. Is that the biggest international story out there?
Syria is incredibly important right now. Our ambassador just left. They lowered the flag at the U.S. embassy. That's a very ominous sign. It's a country that according to most analysts I speak to cannot survive like this for much longer.
That is an incredibly volatile story that deserves a lot of attention, but it's an election year. I've noticed across the board that there is not nearly the same amount of focus we had on international news last year.
Do you get a chance to follow the election?
I follow it if it relates to foreign policy. I don't follow which voting district one person is going to do well in. We have other people to do that.
You have ascended to a top job at a relatively young age and won a slew of awards, do you find yourself looking at what's next? Is this series the kind of thing that mixes it up for you?
Sure, this is a kind of evolution, but I am not giving up my day job. It's another fun project. As long as it's still fun then life is still fun. I didn't get in this for the fame and the glory and the money. There are plenty of easier ways to make money. It's a bit of a pain in the neck. I do it because I like living on the road.
How much time did you get to spend at home last year?
Last year I was home for about two months. It's not like I go on an assignment and add on an extra story. I roll from one story to the next. While doing that, I pick up little pieces of footage and that's what this came from.
It's almost like being in a band that's always on the tour bus — just a band that has a really bad gig, a band with the tour agent from hell and Lucifer as the band manager.