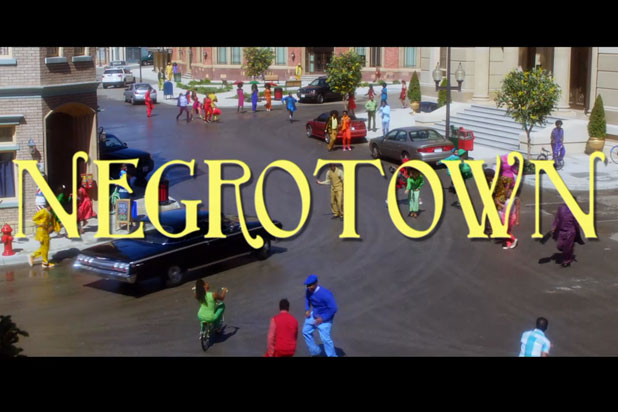 "Key and Peele" will take a magical journey to "Negrotown" in Season 5, which comes to Comedy Central in early July. Fortunately for fans, we can all travel there together today thanks to the majesty of the Internet.
After Keegan-Michael Key gets harassed by a white cop for doing literally nothing, a strong bump on the head and sketch comedy partner Jordan Peele whisk him away to idyllic Negrotown, which has none of the racist trappings that much of America sadly still holds for African-Americans.
The hilarious and topical sketch will be part of a future episode, but not the fifth season premiere, the cable channel told TheWrap.
Also Read: President Obama Gets 'Key and Peele' Anger Translator at White House Correspondents' Dinner (Video)
"It's the place to be if your skin is brown/I'm talking about Negrotown!" Peele's formerly homeless character begins his happy, campy song in the duo's new setting.
"Negrotown? What, like Atlanta?" Key interrupts.
He's not 100 percent wrong, but Peele's hobo-turned-mayor character really doesn't like being cut off mid-song, a joke that pays off throughout the skit.
Also Read: Fox News Apologizes for Misreported Baltimore Police Shooting: 'We Screwed Up'
"I think I get it now! It's like a utopia for black people!" Key exclaimed during a break in a later verse.
"Yeah! But seriously, shut the fuck up!" Peele happily insisted.
He'd cut off Peele one more time before the taller comic learned his lesson.
"Can a nigga finish a song? I mean … can … a nigga … finish?" the Negrotown host pushed, still forcing a smile.
Also Read: Baltimore Unrest: Will the Media Keep Its Word on Having a 'Conversation' About Race?
Among Negrotown's advantages are included the freedom of residents to wear hoodies without getting shot and loan applications that are always approved. Plus, there are "no white bitches" to take black men away, the female townspeople cheer.
Also, citizens can hang out in a group without being considered a gang, there's no sickle cell anemia and cabs always stop.
"Key and Peele" returns to Comedy Central for Season 5 on July 8 at 10 p.m. ET/PT.