Neon Carnival, the annual celebrity-stacked after-hours fair near Coachella thrown by ringmaster Brent Bolthouse at a private airport, returns to Thermal, California on Saturday April 16, TheWrap's Party Report has learned.
Having spent over a decade in desert during Coachella's opening weekend, the unaffiliated one-night-only affair that lands in the gray area between Saturday night and Sunday morning has seen Clint Eastwood wield a (water) gun for carnival games, Rihanna pull up in her tour bus, Justin Bieber claim an elevated table, and just last year, Leonardo DiCaprio raise his fist in a victory salute 10 months before those digits would finally clasp Oscar gold.
Also Read: WTF Is Up With Madonna? A Short Explainer
In an early pre-Obama incarnation, when it used to be inside one of the hangars for a much smaller crowd of intimates, the late DJ AM anchored one plank of a DJ troika, with Steve Aoki and Danny Masterson. Aoki was years away from his current stature as a global producer, label owner, and cake-tossing entertainer.
2016 attendees can expect new rides, a new setup, as well as DJs Kayper, Politik, Jesse Marco, and the under-appreciated DJ Ruckus, all of which will keep a predominantly industry crowd dancing late in to the night — or early into the morning, depending on how you look at it.
Despite the historic Guns N' Roses reunion at the polo grounds earlier that night at and the fashion elite choosing Jeremy Scott's gathering elsewhere in the desert, organizers never considered reformatting.
Also Read: Justin Bieber Settles Lawsuit With Paparazzo Who Says Star Kicked Him
"I think we were the first (side) event in the desert around that musical weekend that mattered," creator Brent Bolthouse told TheWrap when reached in Mexico earlier this week. "Saturday has just always worked for us."
The event has no affiliation with the Coachella festival, other than Bolthouse swearing that barring a catastrophe, he will make it to the concert to see at least a part of Axl, Slash and Duff McKagan complete their reunion.
"(Duff is) a friend," Bolthouse adds. "I grew up with that band."
Also Read: Shake Shack Finally Opens in West Hollywood, Customers Break Into Happy Dance (Video)
It's the one late-night after-after party where the Party Report has spotted agency department heads lining up next to pregnant TV hosts who could not be slowed down, while NBCUniversal executives who traveled all the way from New York ranked it as a "must-do".
Corporate Hollywood has also taken note. Open Road, the studio behind the Oscar winning Best Picture "Spotlight," sponsored last year's carnival to hype Sundance hit "Dope" to that crowd. This year, two denim lines (Re/Done and Levi's) are the title sponsors, while Tequila Don Julio will bring an airstream trailer on to the grounds and provide the pours.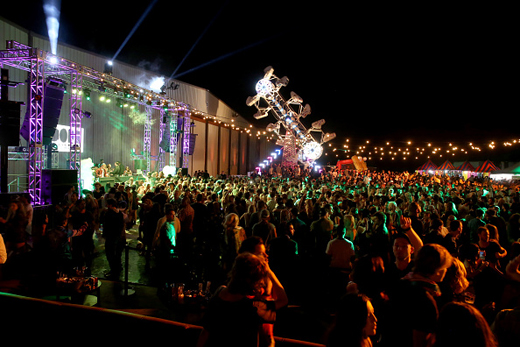 Only 2,865 people live in the host town of Thermal. Many more than that made their way past layers of security and down a neon alley to a tarmac littered with ferris wheel, bumper cars, makeup stations, food, a vast outdoor nightclub, Kendall Jenner, Lars Ulrich from Metallica, private jets, and Chris Brown last year.
"We get so many people trying to buy tables from us," Bolthouse said. "We don't sell tables and we don't sell tickets. Just because that happens at nightclubs on Sunset Boulevard doesn't mean that happens for this."
As the footprint has grown, so has the infrastructure.
Multiple days of advance check-in will take place at a Hollywood nightclub 120 miles away from the event, stadium lights illuminate vast parking lots, and in the past few years, flashing road signs attempt to thwart crashers with a "Guest List Only" warning on the state roads nearby.
"I would say this publicly to all the people on Craigslist buying wristbands for Neon Carnival: 'It's not going to happen this year. Don't waste your money, because you're not going to get in. We're very adamant about that.'," Bolthouse warned.
In a bad sign for those on the fringes of the invite list, the attendance is getting clipped.
"I think is now my 25th year in the nightclub business. If you don't have a relationship with us after 25 years, I don't know what to tell you," Bolthouse said. "This is not a 300 person Oscar party. We want people to be there. We want people to have fun."
Jeffrey Best and NVE's Cameron Huston &  Brett Hyman produce with Bolthouse. Rembrandt Flores, Joyce Sevilla, and EFG return for the unenviable task of juggling inquiries.
More details on the big musical weekends in the desert to come…
Please send additional event info, bookings, and invites to TheWrap's Party Report columnist Mikey Glazer here.