Netflix launched on Wednesday its kid-friendly section "Just For Kids" on Xbox 360.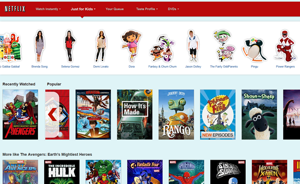 The special page, now accessible through the gaming console's Netflix app, is geared toward children 12 and under and offers animated films, comedies and kid-friendly shows.
The section includes characters meant for young children such as Barney, Miley Cyrus, Power Rangers, SpongeBob SquarePants, and an array of Marvel superheroes.
Netflix's algorithm for the section displayed on "Just for Kids" also begins to filter the tastes and suggest more titles children might like once they have accrued a viewing history.
Also read: Netflix Names Warner Bros. Exec as Chief Marketing Officer
The streaming company recruited the nonprofit group Common Sense Media, which helps curate and provide titles appropriate for young children.
The video rental company launched the section a year ago and it's currently available on PCs, Macs, the Nintendo Wii, Sony's PlayStation 3, Apple TV and certain other smart TVs, Blu-ray players and other streaming devices.
Next, Netflix now plans to launch "Just for Kids" on its tablet apps.