Nothing quite suits "How I Met Your Mother" creators Carter Bays and Craig Thomas like a handsome new eight-figure overall deal — except, perhaps, for a new series.
Turns out both are in the works for the comedy duo.
Bays and Thomas have reupped for three more years at longtime home 20th Century Fox TV, agreeing to stay with the studio through 2013 via a deal negotiated by their reps at United Talent Agency. They're now on board to remain as showrunners for "HIMYM" through its eighth season, as long as CBS opts to keep it on the air that long.
The big news for "HIMYM" fans, however: Bays and Thomas have teamed with "HIMYM" writers Kourtney Kang and Joe Kelly for a new half-hour romantic comedy script the foursome have written on spec.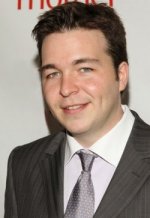 The show, set in Pittsburgh, will follow a young couple who've been dating and are on the verge of moving in with each other, along with their friends. It sounds sort of like "HIMYM" but through the eyes of Lily and Marshall, rather than Ted.
Expected to be shot in the hybrid single/multi-camera format used for "HIMYM," 20th will begin pitching the script to networks shortly.
Bays said he and Thomas' "number one priority is still 'HIMYM'," which is one reason they decided to develop with two other writers.
"We didn't want to create a situation where our attentions would get too divided," he told TheWrap via e-mail.
"Half the fun of developing a new project has been working with Joe and Kourtney," Bays added. "Now that Craig and I are grizzled old veterans, it's nice to have some development virgins on board to remind us how much fun this can be."
So far, Kang and Kelly have been "excellent collaborators," Bays said.
"They're both so talented and funny, we just trust them implicitly, and we know they can take the reigns when necessary," he said. "And honestly, Craig and I owe so much to the people who taught us how to do this job — people like Steve Levitan, Seth MacFarlane and Rob Greenberg — that we leapt at the chance to fill that role for someone else…. I hope we get to continue it in series."
"HIMYM" was the first pilot Bays and Thomas wrote under their original 20th deal. They've mulled whipping up something else during the last five years, but — with the support of 20th chairmen Dana Walden and Gary Newman — they've heretofore kept a laser-like focus on their firstborn.
As for the new deal with 20th, it guarantees Bays and Thomas an eight-figure amount over three years vs. the mid-seven figure range for their last agreement. Now that "HIMYM" has been sold into syndication, it's expected the writers will get an expanded share of profits from the backend. Their ownership stake was also upped the last time they reupped with 20th, back in 2007.
In the meantime, Bays continues to spend part of his spare time tackling the New York Times crossword puzzle — and then making sure to tweet his thousands of followers on Twitter about just how quickly he finished. (Follow Bays on Twitter here).
"I've always been a big fan of the crossword," Bays said. "Now, thanks to Twitter, when I finish a puzzle I no longer have to call up my 700 closest friends one by one and tell them about it. So it's actually been a real time saver."
And what about Thomas? Why has he yet to brag online about his Sodoku skills or other random musings?
"Craig is way too busy picking up my crossword-related slack to waste time on Twitter," Bays said.
Meanwhile, in case you missed it, here's "Nothing Suits Me Like a Suit," as performed on the 100th episode of "HIMYM" earlier this month: