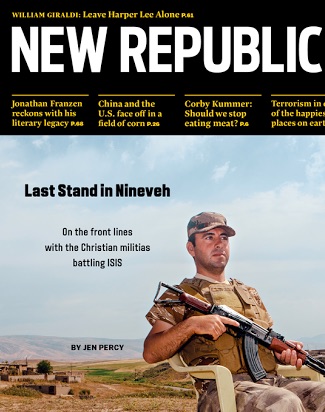 The New Republic debuted a redesigned print edition on Tuesday featuring a new title, cover design, and fonts.
"New Republic" lost the word The with a less cluttered look and more white space.
"Overall, we wanted a less cluttered look that put our stories up front," editor-in-chief Gabriel Snyder told Poynter Institute. "The new visual hierarchy applied to the editorial framework and easier-to-read typefaces were developed to maximize approachability without sacrificing the depth of content."
Also Read: The New Republic Tackles Its 'Perceived Legacy of Racism' in First Issue Since Mass Shakeup
On the non-print side, Snyder said the magazine has undergone a digital makeover that doesn't come at the expense of long-form journalism.
"I think that's a big question that everyone who is now confronting this new generation of communication technologies is constantly asking," he said. "Is the future of digital media only super-poppy easily imitated listicles, or is there a way for serious thought to thrive? I'm firmly in that latter camp."
Also Read: The New Republic Owner Chris Hughes on Purchase of Magazine: 'I F-cked Up'
And with its print and digital alterations over the last eight months, the company has settled on a new mission, sounding eerily similar to a computer technology company — fitting for an outfit owned by former Facebook co-founder Chris Hughes:
"The New Republic is a mission-driven media organization. We promote novel solutions for today's most critical issues."