"The King's Speech" is now fit for younger moviegoers to hear.
The Motion Picture Association of America's ratings board has assigned a PG-13 rating to an alternate version of the Academy Award-nominated movie. The film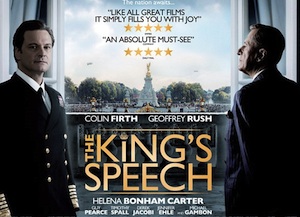 currently is rated R "for some language."
The PG-13 rating is also for language.
Ordinarily, a re-rated movie would not be available in movie theaters until the old version had been withdrawn. In this case, the MPAA and National Association of Theatre Owners waived that rule.
"The Weinstein Company, which produced the film, has undertaken a commitment to ensure, through a revised advertising campaign, that it will be clear to consumers that a newly rated version of this film is coming to theaters near them. In this case a waiver is justified," said Bob Pisano, the MPAA's president and interim CEO, in a written statement.
The head of the theatre owner's association, John Fithian, said in a written statement that "…given the high profile of the movie, we believe there is little likelihood of confusion among our patrons. We are pleased that The Weinstein Company respected the rating system by creating a different version of their movie and submitting it for proper classification before making it available to a wider audience."
The Weinstein Company disagreed with the R rating from the start, and hired lawyers to challenge it.
The original version was released Sept. 6, 2010.