It's the dawning of a new year, which means it's the perfect time to forget all about those resolutions and just lounge around on the couch watching TV as always for three days straight.
Luckily, there's plenty of programming to help you do just that. From the ball drop to the rose parade, college football games and everything on Netflix, there's something for everyone.
Here is TheWrap's guide to watch to watch live, what to marathon and what to binge this New Year's weekend.
Also Read: Happy New Year! TheWrap's Best Hollywood Guests Cheers to 2016 (Video)
Timely live-viewing:
New Year's Eve Celebrations: To watch the ball drop in Times Square, turn your TV on. Chances are, whatever channel your TV is already on will be showing it. For specific brands of hosted entertainment throughout the night, however, there are a few big ones. ABC's "Dick Clark's New Year's Rockin' Eve" starts at 8 p.m. ET, NBC's show hosted by Carson Daly starts at 10 p.m, CNN has Anderson Cooper and Kathy Griffin making things awkward at 8 p.m, and Fox has "Pitbull's New Year's Eve Revolution," starting at 8 p.m.
The Rose Parade: A New Year's tradition since 1890, people camp out overnight and wait in line for hours in order to experience floats made out of roses drive slowly through Los Angeles. Luckily, you can catch it from the comforts of your living room. The parade is broadcast on ABC, NBC, Univision, HGTV and many other channels.
Also Read: Jennifer Lawrence Hates New Year's Eve: Here's Why
College Football Playoffs: Don't let national holidays get in the way of your sports. On NYE, two semi-final games are happening. No. 4 Oklahoma is going up against No. 1 Clemson at 4 p.m. ET on ESPN, while at 8 p.m., No. 3 Michigan and No. 2 Alabama are facing off. The championship will be decided on Monday, Jan. 11 at 8:30 p.m. on ESPN.
Marathons:
"The Twilight Zone": If the holidays put you in a weird mood, Syfy can make it even weirder. It's airing all 156 episodes of "The Twilight Zone" over the weekend, from Dec. 30 to Jan. 3.
"The Walking Dead" / "Fear the Walking Dead": AMC is banking on its most popular show. All weekend long it will be showing episodes of "The Walking Dead" and spinoff "Fear the Walking Dead." The mothership show returns for the second half of its sixth season on Feb. 14, 2016.
Also Read: 'Walking Dead' Midseason Premiere Trailer Teases Deadly Price Characters Might Pay (Video)
"The Simpsons": Sure, it's on TV pretty much all the time anyways, but when have you ever had so much free time to actually watch it all, in order? FXX has you covered.
"Younger": Light and airy and fun, TVLand's dramedy starring Sutton Foster is perfect for kicking off a new year and New Year's resolutions to live life to the fullest. Season 2 premieres on Jan. 13, and you should probably catch up on Season 1 before that. All 12 episodes will be airing on Friday, Jan. 1.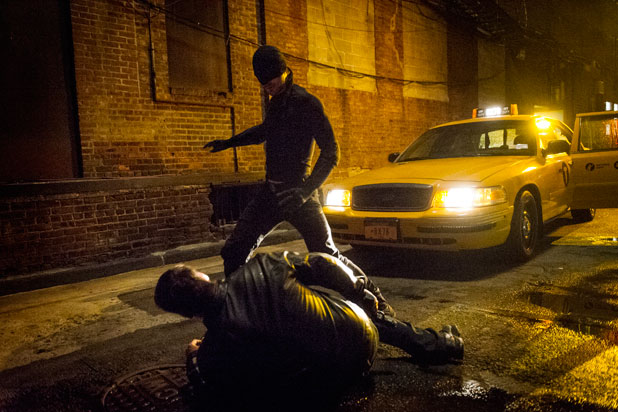 Binge-worthy:
"Making a Murderer": If you haven't seen Netflix's true-crime saga that has everyone talking, this weekend is the perfect opportunity to binge watch all 10 infuriating episodes. It's a particularly good option for those nursing a hangover on New Year's Day. Watching the Wisconsin criminal justice system cause one family so much pain is guaranteed to help you forget about yours.
"The 100": Ahead of its third season premiere on Jan. 21, this long weekend is the perfect time to catch up on this dark, twisted and unexpected CW post-apocalyptic drama that's unlike anything else on the network. You'll laugh, you'll cry, but you'll mostly be horrified at the lengths these teens will go to in order to survive and protect each other. The first two seasons are now streaming on Netflix.
Also Read: 'The 100' Extended Trailer Teases Everyone at War (Video)
"Daredevil": Those first images just released from Season 2 of Netflix's Marvel superhero drama were pretty cool, but before meeting The Punisher and Elektra, catch up on how Matt Murdoch (Charlie Cox) became Daredevil in the first place. And be sure to watch the just as good and just as addictive "Jessica Jones" while you're at it too.
"Star Wars": Still thinking about "The Force Awakens"? How about reliving the magic of the "Star Wars" saga from the beginning? The entire franchise is available digitally via iTunes, Google Play and other online platforms. It will take you about 20 hours to get through the whole thing – just in time for another visit to the theater to see the newest installment.