The latest school shooting at Umpqua Community College in Oregon grabbed the entire media's attention on Thursday after 10 people were killed while seven others were injured.
The alleged shooter, 26-year-old Chris Harper Mercer, was killed in a shootout with police. He reportedly asked victims if they were Christians before shooting.
The shooting, which solicited an impassioned plea for action by President Obama, has drawn a large array of media coverage.
Also Read: Why Outrageous WDBJ Shooting Covers on NY Post, Daily News Take Sensationalism to Next Level
The New York Post, which was widely panned for its cover after the WDBJ TV shooting, again straddled the line.
The New York Daily News, which was also criticized for its WDBJ shooting coverage, went with a front page that highlighted how little has changed from the time of the Sandy Hook elementary school shooting in 2012.
Also Read: NY Daily News Sparks Outrage With 'Sickening' WDBJ Shooting Cover
The Huffington Post reported with a simple headline describing how gun violence in America has become routine.
Also Read: Geraldo Rivera Slams Gun Lobby After Oregon School Shooting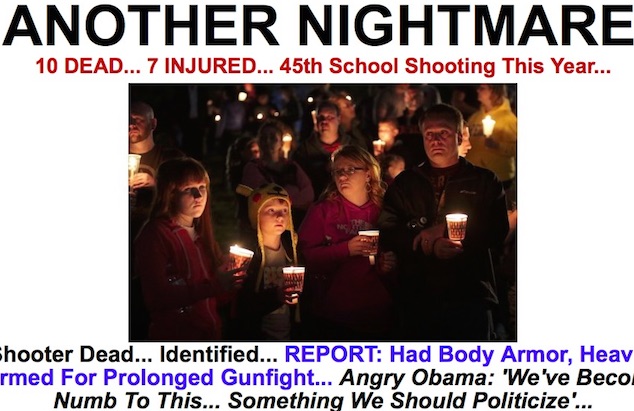 The hometown Oregonian newspaper displayed the emotional picture of two women tearfully hugging after the carnage.
On television, GOP frontrunner Donald Trump appeared on MSNBC's "Morning Joe" on Friday, calling the shooting a "terrible situation" and adding that "you're going to have these things happen."
He added: "It's not politically correct to say that but you're going to have difficulty and that will be for the next million years."
Also Read: WDBJ Shooting Survivor Speaks Out for First Time: 'The Only Thing I Could Think of Was, 'Play Dead'
And Breitbart News and liberal site ThinkProgress are engaged in a media tit-for-tat over the shooting; specifically, the two sites are disputing whether Umpqua Community College was a gun-free zone, which TV news networks have been reporting.
On Thursday, ThinkProgress published a story claiming the school was not a gun-free zone:
A 2011, state court decision prohibited public colleges from banning guns on campus. The decision stemmed from a suit filed by the Oregon Firearm Education Foundation, a gun rights group. There was an effort to pass a new law to reinstate the ability of public colleges to ban guns. That measure was defeated by gun rights advocates.
Also Read: 20 Deadliest Places for Journalists: TV News Shooting Death Exposes Ugly Side of Social Media
Breitbart jumped on this, headlining its story with "ThinkProgress FAIL."
ThinkProgress published a factually incorrect piece in the immediate aftermath of the mass shooting at an Oregon community college. The school, Umpqua Community College, was, in fact, a gun-free campus. An archived copy of their student code of conduct shows [Breitbart showed screen shot of school conduct code]…
Also Read: How Horrifying WDBJ Shooting Could Impact the Future of TV News Live Shots
Think Progress responded by doubling down on its reporting.
The conservative site Breitbart and others assert that guns were banned at UCC. This is not true. The student code of conduct bans guns "without written authorization." Under Oregon law, the university could not ban people with a valid concealed carry license from bringing their weapons on campus. (They could ban gun from various buildings and facilities.) Conservative writer Dana Loesch, who initially claimed the campus was a "gun free zone," updated her article to clarify that individuals with concealed carry permits were allowed to bring guns on campus. There was, in fact, someone on campus with a concealed carry weapon at the time of the massacre. A local reporter explained to CNN that it was legal for him to have such a weapon on campus.