The management at the New York Times told protesting union workers that it will make its "final offer" on Thursday, the union said.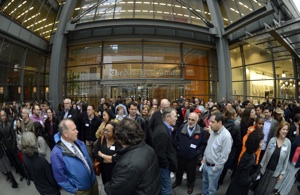 Eighteen months of tumultuous contract talks between union members and management have deteriorated in the past week as hundreds of employees walked out for about 10 minutes on Monday afternoon and managers left a meeting after 10 minutes Tuesday.
Negotiations have been stalled on the issues of employee pension plans and raises.
Also read: New York Times Employees Walk Out in Union Protest (Updated)
The Newspaper Guild of New York said that besides walking out of Tuesday's meeting, management canceled Wednesday's session and said it will make its "final offer" on Thursday.
"This means management will try to ratchet up the pressure by taking a step that, conceivably, could take us to the brink of impasse," the union wrote in the email, posted later to its website. "For now, however, a so-called 'final offer' is just another reckless step that is much in keeping with management's sorry track record during this negotiation."
A spokeswoman for the Times declined to issue a statement.
"We're not commenting on our negotiations beyond saying that our priority remains reaching a fair agreement with the Guild," Eileen Murphy, the Times' vice president of corporate communications, wrote in an email to TheWrap.
The Guild has said it could go to the National Labor Relations Board to fight a declaration of impasse or vote to authorize a full-fledged strike.
Anthony Napoli, the Times' Guild contact, said the union represents a variety of jobs at the company, from security guards to reporters to advertising salespeople. He said salaries vary per position, though the union wants across-the-board raises for all employees.
"At this point we're still negotiating, we have been for close to two years," Napoli told TheWrap. "We're still at the table.
Updated at 9:11 a.m. PST with comment from the Times.
Updated at 11:11 a.m. PST with comment from the Guild representative.