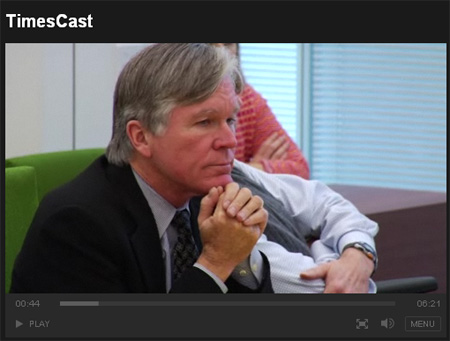 The New York Times is trying its hand at meta-video online.
On Monday, the paper announced something called TimesCast, a daily video report "summarizing the big news stories of the day."
The video "will appear on the nytimes.com home page at 1 p.m. each day; after 2 p.m., it will move to a less prominent position on the site."
It's sort of a how-the-sausage-gets-made "show" similar in concept to "Tabloid Wars," the short-lived Bravo about life for reporters at the Daily News. Only much, much drier.
The first – a six-minute video – is ad-supported (by FedEx), and features a look inside a Page One meeting at the Times. (Apparent dress code during those Page One meetings? Light blue Oxfords and ties.)
"It's not just straight, breaking news, it's talking about the way The New York Times is looking at the story – our analysis, our particular take on the story," Ann Derry — editorial director for video and television at the Times who is heading up the project – told the paper. "We already produce a lot of video to go along with stories, but we felt the need to have a regular video news overview on the home page."
One thing sorely lacking however: ability to embed. For now, you'll just have to click here to view.