Will it ever get better for Major League Baseball?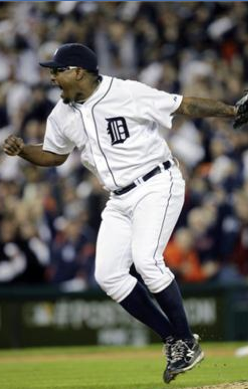 Not this year. After the Detroit Tigers eliminated the New York Yankees from the playoffs last night, Commissioner Bud Selig not only lost his marquee franchise but also his one chance at ratings gold.
While the playoffs feature teams from large media markets, like the Philadelphia Phillies and Texas Rangers (Dallas), none of them have the cross-country appeal required to improve the league's moribund ratings.
Last year the World Series tied the record for the lowest marks in league history — in a contest that saw the Rangers on the losing end.
The embarrassing record it tied came from 2008, when the Phillies won the crown.
Now there were other reasons viewers didn't tune in – the series were short and the Phillies played the Tampa Bay Rays and their anemic fan base – but the ratings also spoke to a greater problem.
Despite what the recent surges in attendance figures and revenues might indicate, baseball's popularity on a mass scale is waning. Football has displaced it as "America's Pastime" and basketball has stolen its claim on star power.
There are plenty of diehard fans, but numerous problems plague the sport.
The length of the season causes fans to tune out for prolonged periods. The slow development of most players and the second-tier status of college baseball makes it harder to promote stars right away.
Before getting carried away – because this list could really go on for a while – there are two essential problems.
One, the length of the game and the format of the game make it unwatchable on TV to many common fans and potential new viewers. This is one reason the ratings are so low despite other strong numbers.
Worse, the sport has failed from a marketing and parity perspective. There are only a handful of teams that will draw enough viewers from across the country to boost ratings for a World Series – the Yankees, Boston Red Sox, Los Angeles Dodgers and Chicago Cubs. Maybe a few more, but the Phillies play in one of the nation's largest media markets and even they have a more limited appeal.
While the NFL has rewarded almost every team with a national fan base and while the NBA once again has a plethora of marketable stars, baseball is stuck with more regional followings and few identifiable faces.
That leaves the league, its owners, its TV partners and advertisers in a bind.
They can hope that the Phillies and Rangers will meet, and fans will come out of the woodworks. Or maybe the Tigers would boost the ratings more.
But if the Milwaukee Brewers make it into the fold, it is incontrovertible that Bud Selig will lose some sleep. And he isn't just the league's commissioner, he used to own the Brewers.