About 40 minutes after winning her $1 million as the last survivor on "Survivor: South Pacific" Sunday night, Sophie Clarke seemed to realize her new reality.
"I'm 22 years old, a millionaire. I am the 1 percent now," the Upstate New York reality cast member told TheWrap.
Clarke just finished her first semester of medical school this week, but she's not dropping out.
Also read: 'Survivor' Gets Two More Cycles, 2012 Premiere Date
"It's nice to be able to have the freedom to choose my medical specialty based on what I really want to do," she said, "It's taken the financial factor out. I want to be an OBGYN or a family doctor,"
Instead of the long-running practice of awarding the money the morning after the finale on CBS' "The Early Show," host Jeff Probst presented the check to Clarke right on stage during the show's live finale.
"I thought that I'd be able to process this. Some voices in my head would be tell me what's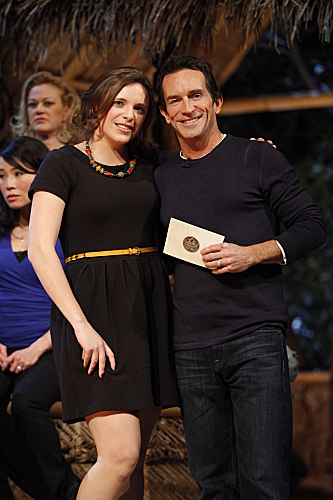 going on, but I'm just overwhelmed," Clarke said.
In recent seasons, producers have cast two returning "veteran" players to compete alongside rookies. On Sunday night, the two veterans took home an additional $200,000 in prize money.
America voted a $100,000 Sprint "Player of the Season" cash prize to fan favorite Ozzy Lusth while the only other returning veteran "Coach" Benjamin Wade took home $100,000 as the competition's runner up. (At left, Wade, 3rd place finisher Albert Destrade, Clarke, and Lusth.)
Backstage after the show, Wade told TheWrap that returning veteran players, who are featured heavily in the promotion, do not get a higher appearance fee than the first-time players.
All the cast members are sequestered from each other before filming begins. Despite a clubby network of former contestants, Wade revealed that he only learned Lusth would be returning as his competition when they ended up in the same immigration holding room at the airport in Samoa.
Also read: Bravo's 'Real Housewives' Suicide Spotlights Reality-Show Tactics Anew
Lusth, who was acting before his run of three seasons on Survivor said he is no longer pursuing acting.  He acknowledges a casting industry prejudice against reality personalities. "It's a little too difficult doing Survivor to transition in to theatrical stuff," Lusth said.
Later this week, across the same CBS lot, one of four "The X Factor" finalists will take home a $5 million prize.