Rupert Murdoch's launch of The Daily wasn't the only news to come out News Corp. on Wednesday.
The company reported fiscal second quarter net income of $642 million, up more than $388 million over the previous year, on the strength of its television and cable networks and offset by a marked decrease at its film unit.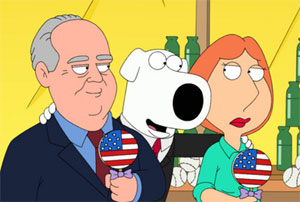 Also read: Rupert Murdoch Launches His iPad-Only Newspaper
Overall, revenues for News Corp. were $8.76 billion during the quarter.
News Corp.'s television operating income of $151 million, an increase of $122 million versus the same period a year ago. That was driven by a $121 million increase in revenues at Fox Television Stations and Fox Broadcasting Company.
Murdoch said the soaring profit "demonstrates the mounting vigor of our global channels business."
"In the U.S. market, our cable channels are still expanding and adding subscribers, while increasing their revenues and profits at a double-digit pace on the strength of affiliate fee increases and buoyant advertising markets," Murdoch continued. "I am also pleased with the continued recovery of our U.S. broadcasting business, including our local TV stations and the Fox Broadcasting Company, which posted its best quarterly profit in two and a half years."
He added: "I am confident that the significant positive momentum from these businesses will not only continue to drive News Corporation's growth for the remainder of the fiscal year, but also strengthen the Company for growth in the years to come."
But the news out of News Corp.'s sprawling media empire wasn't entirely rosy.
Operating income for News Corp.'s film division slid more than 41 percent (to $189 million) during the quarter, compared to $324 million a year ago.
News Corp. attributed the decline to a "difficult comparison to the prior year's strong results," which driven by "Ice Age: Dawn of the Dinosaurs" DVD release, as well as added launch costs for the worldwide releases of "Unstoppable" and "Gulliver's Travels."
News Corp. also said it took a $275 million restructuring charge at its digital media group, which includes its struggling MySpace social network.