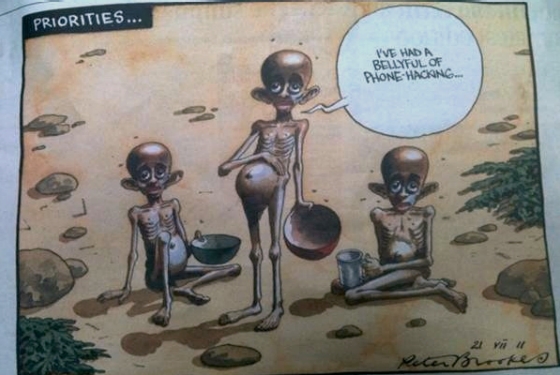 Rupert Murdoch has not made many friends in recent weeks given the phone-hacking scandal tainting his media empire.
A new editorial cartoon in the Times of London won't help matters.
There's not much to say about the cartoon — it speaks for itself. One Murdoch publication is already guilty of morally and ethically bankrupt journalistic practices. Now another is trying to make those improprieties seem insignificant — in, to use Rebekah Brooks' favorite word, abhorrent fashion.
Needless to say, response on Twitter has not been exactly favorable:
@HuffPostMedia:Is this cartoon about phone hacking in a Murdoch paper 'horrendous' or just misguided?
@EMMAGKELLER (account of Vanity Fair's Emma Gilbey Keller):Anyone else wondering if this cartoon from today's London Times is part of the Edelman strategy?
@Sarah_Crown: Absolutely reprehensible. RT@KathViner What do people think of this cartoon in the Times?: lockerz.com/s/122196367
@Pbump: Times of London (a News Corp property) runs a jaw-droppingly offensive politilca cartoon about the scandal
@thinkprogress: News Corp.'s Time of London publishes cartoon with starving children bemoaning phone-hacking scandal coverage
@TeresaKopec: Cartoon in Murdoch's London Times may be most offensive thing they've done yet