Though the Guardian's Nick Davies has said he suspected there would be no more high-level arrests in the News of the World phone hacking scandal — and by that he meant at the executive level — the London Metropolitan Police continues to bring in the paper's former editors.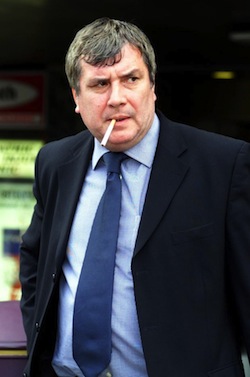 Greg Miskiw, who was the news editor of the now-shuttered tabloid while much of the hacking took place, was arrested Wednesday on suspicion of unlawful interception of communications, and conspiring to intercept them as well. Both violate British law.
Miskiw, who is the 12th person arrested this year in connection with the scandal, was first identified by the Guardian as a 61-year old man arrested by appointment at a London police station. It was later revealed that the man was Miskiw.
It had been reported the Miskiw, who had moved to Florida and was believed to be working for American tabloids, was on his way back to England.
Miskiw worked under both of the disgraced former News of the World editors — Andy Coulson and Rebekah Brooks. Brooks was editor while the hacking of murdered teenager Milly Dowler took place and later served as chief executive of News International, News Corp.'s British publish arm.
Coulson, who most recently resigned as communications director for Prime Minister David Cameron, succeeded Brooks and has also been linked to hacking.