From 2005 to 2011, here's a timeline of the scandal that led to the News of the World's closure on Thursday.
November 13, 2005: "News of the World" royal beat editor Clive Goodman publishes a story claiming that Prince William planned to borrow a portable editing suite from Tom Bradby, royal correspondent for ITV. The British monarchy alleges that it's been the victim of phone hacking.
Also read: James Murdoch's Statement in Full
August 8, 2006: Metropolitan Police arrest "News of the World" royal editor Clive Goodman, private investigator Glenn Mulcaire and Weekly News editor Davy Craig, charging them with intercepting messages intended for members of the royal household. This follows a seven-month investigation by Scotland Yard.
Also read: News Corp. to Close "News of the World" in Wake of Scandal
2007: Goodman is jailed for four months and Mulcaire for six months for the phone-hacking scandal, while then-News of the World editor Andy Coulson (pictured below) resigns. In the meantime, allegations surface that other journalists working for the paper are also involved in phone hacking.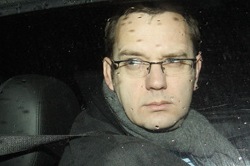 July 2009: British newspaper the Guardian launches a series of published allegations claiming that the News of the World phone-hacking scandal extends far beyond Goodman. The paper goes on to claim that politician John Prescott, Manchester United football club manager Sir Alex Ferguson and public-relations maestro Max Clifford were among the victims of phone hacking.
The Guardian also reports that, contrary to News of the World's earlier claims, a number of people at the paper knew of the phone-hacking activities, Coulson included.
In addition, the Guardian reveals that News of the World had made out-of-court settlements with three of its alleged victims, including Professional Footballers Association chairman Gordon Taylor. The payments, which were subject to secrecy clauses, are said to exceed 1 million British pounds.
February 2010: The House of Commons Culture, Media and Sport Select Committee issues a report on the growing scandal, claiming that witnesses appearing before the committee on behalf of News of the World had suffered from "collective amnesia" and engaged in "deliberate obfuscation" while testifying.
March 2010: News of the World settles a lawsuit brought against it by Clifford, agreeing to pay Clifford's legal fees plus a "personal payment" that, while undisclosed, was reported to be in excess of 1 million British pounds.
September 2010: The New York Times publishes the results of its six-month investigation into the scandal, revealing further details of The World's phone hacking and Coulson's reported knowledge of it. The report also claims that the paper had hacked into the phone messages of a "television personality." As a result, the Home Affairs Select Committee opened a new investigation, with the Metropolitan Police saying it planned to do the same.
December 2010: Coulson testifies under oath that he had no knowledge of the phone hacking at his paper, and denies even knowing Glenn Mulcaire. The former News of the World editor is not charged due to insufficient evidence.
January 2011: Metropolitan Police announce their intention to open a new investigation based on "significant new information." News of the World senior editor Ian Edmondson is fired, based on evidence that he knew of the phone hacking, despite previous denials.
April 8, 2011: News of the World publisher News International offers an apology and admits liability to eight victims who had filed claims against the company, including actress Sienna Miller (pictured) and former Labour Member of Parliament Tessa Jowell. News International says it will continue to fight claims filed by other alleged victims.
April 14, 2011: News of the World reporter James Weatherup is taken into custody by Metropolitan Police.
May 20, 2011: The BBC reports that the phone-hacking scandal may go much deeper than previously thought. Notebooks belonging to a private investigator employed by News Group Newspapers are said to contain "thousands of mobile phone numbers," while police allegedly found "149 individual PIN numbers and almost 400 unique voice mail numbers which can be used to access voice mail."
July 4, 2011: British newspaper the Guardian reports that News of the World reporters had hired investigators to hack into missing schoolgirl Milly Dowler's voicemail box and deleted messages, giving false hope to friends and family that Dowler — who disappeared in March 2002 — was still alive and corrupting the investigation into her disappearance. (Serial killer Levi Bellfield was convicted of Dowler's kidnapping and murder in June 2011.)
July 6, 2011: The Daily Telegraph claims that News of the World might have intercepted phones belonging to dead British soldiers, prompting armed-forces charity group the Royal British Legion to cut its ties with the paper. Meanwhile, Rupert Murdoch calls the alleged hacking "deplorable and unacceptable"
July 7: James Murdoch announces that he's shutting down News of the World, effective July 10.